CSUF grads who are working at Hacienda La Puente Unified as licensed speech-language pathologists. Left to Right: Hernandez Lourdes (M.A., 2014) Mariela Garcia (M.A., 2015) Susan Muljana (M.A., 2015) Cheryl Suba (M.A., 2016)
COMD department chair, HyeKyeung Seung, shared "ingredients for the success of undergraduate education" to the NSSHLA members on September 25, 2017. The board members posed with Dr. Seung and Dr. Kris Brock (co-Adviser of the NSSHLA).
 Our alums who are working at the Garden Grove Unified school district are posed for a picture. From the left, Skye Piper, Vickie Woodall, Carol Wang, Mylinh Nguyen, Judy Meckna, and Alan Bui.
At the American Speech-Language-Hearing Association annual convention in L.A., a graduate student in the Communication Sciences and Disorders, Paul Bishop, independently presented a study, "Beyond the Tudor study: What does Dr. Wendell Johnson's legacy mean for speech therapy today?"
Graduate students, Shalu Chauhan (right in the picture) and Andrea Farase (center in the picture) presented, "The effects of video & phonographs on naming, identification, & sentence production for persons with aphasia" with their mentor, Dr. Brock, at the 2017 ASHA convention.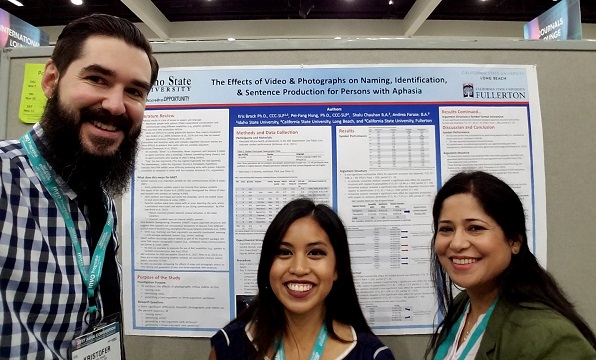 Open House 2017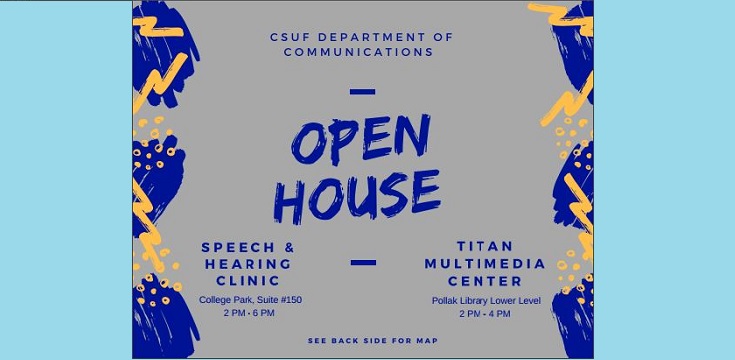 Jamie Bui (right in the picture), Ngoc Nguyen (left in the picture), and Allison Ko (attending graduate school at University of Washington) presented, "Examination of the M-CHAT-R Vietnamese" with their mentor, Dr. Seung, at the 2017 ASHA convention.




Dr. Terry Saenz (pictured third from left) from the College of Communications, was honored by the Faculty Development Center and Academic Affairs at the 2017 Faculty Recognition event for acting as a champion for services within the Department of Communication Sciences and Disorders, and for serving as a dedicated advocate for its faculty and students.