Dr. Doug Swanson, Professor of Communications, Is the Author of Real World Career Preparation: A Guide to Creating a University Student-Run Communications Agency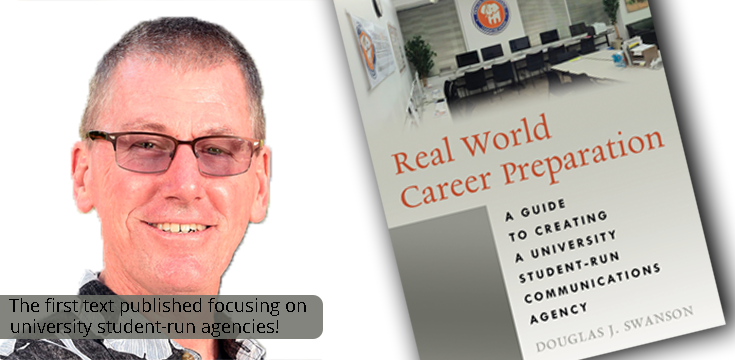 The student-run communications agency in the College of Communications is front and center in a new book that is believed to be the first text published focusing on university student-run agencies. Dr. Doug Swanson, Professor of Communications, is the author of "Real World Career Preparation: A Guide to Creating a University Student-Run Communications Agency."
Two years in the making, the book is an A-to-Z guide for university administrators, faculty, staff and students on how to conceptualize, plan, launch and grow a successful agency. Our award-winning student-run agency, PRactical ADvantage Communications, is featured prominently in the book and in the cover photo.
PRactical ADvantage is part of the Department of Communications. The agency is located at the Irvine Campus and serves as a high-impact practice capstone course (COMM 474) for students in three subject concentrations. Since the agency's founding in 2011, more than 500 graduating seniors have completed the agency course and conducted campaigns or events for real-world clients throughout Southern California.
"When I first contacted Peter Lang Publishers two years ago, the company was anxious to have me develop my proposal into a book for administrators and faculty," Swanson said. "Although there are 158 student-run agencies across higher education, no one has ever written a book that shows, step by step, how to establish an agency and run it successfully. We have done that at Cal State Fullerton, and I wanted to share our story so others can follow."
Swanson recruited agency faculty supervisors from around the country to share their stories, too. "Real World Career Preparation" includes 22 agency spotlight best practices sections from universities across the United States, including San Jose State, Boston University, the University of Kansas, Temple University, and the University of North Texas.
"While our strategic plan is a good one for other universities to follow, our model might not be right for everyone," Swanson said. "So for that reason I wanted to share different ideas. There are many ways to structure an agency, finance it, recruit clients for it, and link it to the curriculum. I wanted my book to offer a full spectrum of perspectives so administrators and faculty can make intelligent choices as they launch a new agency or improve an existing one."
Dr. Swanson is an accredited public relations practitioner who worked in newspapers, radio stations and in a PR agency before coming to academe. He has been teaching full-time since 1995, and joined Cal State Fullerton in 2010. He is a Professor in the Department of Communications and presently serves as Interim Associate Dean in the College of Communications.