CSUF Communicative Disorders Program Coordinator Co-Hosts Autism Parent Support Group
Professionals and Specialists Meet with Parents to Discuss the Individualized Education Plan (IEP)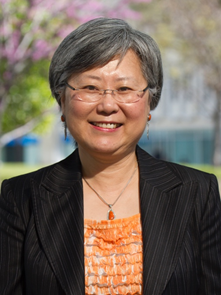 On December 3, 2016, HyeKyeung Seung, Ph.D., CCCSLP, Communicative Disorders Program coordinator, co-hosted an autism parent support group meeting with Becky Um (a parent of a child with autism) and Cecilia Sanchez, M.A., BCBA.
Dr. Seung and Um co-hosted the parent support group meeting for Korean/Korean-American parents who have children with autism at CSUF and Irvine respectively. They have been cohosting the support group in Irvine since January 2012.
The group met to discuss what parents should know about the Individualized Education Plan (IEP). For some quick background, if a child receives special education services, by law they must have an IEP that spells out the child's learning needs, the services the school will provide and how progress will be measured.
Cecilia Sanchez (board certified behavior analysist) shared key information that parents should know about the IEP. HyeKyeung interpreted the information in Korean and provided additional information to the parents in attendance.
Note: This group has no affiliation with any religious group. The meeting was simply held at a church in Irvine where provided the meeting place.