College of Communications Hosts Student Journalism Symposium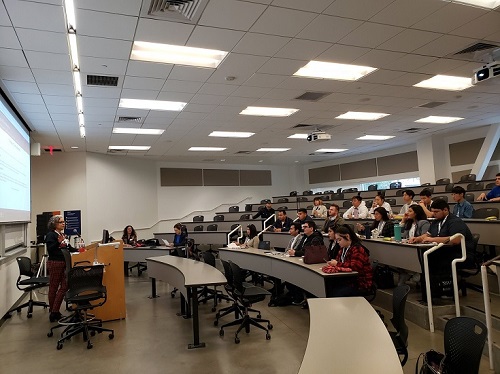 Dr. Inez Gonzales welcomes students and faculty (Bey-Ling Sha / Twitter).
College of Communications Hosts Student Journalism Symposium
By Jessica Razo
Communications students, local high school students, and CSUF faculty attended the 2020 Census Student Journalism Symposium held in Steven G. Mihaylo Hall on Saturday, February 22.
The event was held in the form of a workshop to train student journalists to write and report about the U.S. 2020 Census. The symposium shared numerous ideas such as how to find resources for accurate information, developing newsworthy stories, acknowledging legal processes, how to stay professional, connect, and maintain professional relationships.
Latino Communications Institute Director, Dr. Inez Gonzalez opened up the event with an introduction speech stating the role and importance of journalists and student journalists covering the U.S. 2020 Census.
The following presenter was a partnership specialist for Orange County from the U.S. Census Bureau, Jennifer Lee. Her presentation introduced the background of the U.S. Census system and how the census bureau worked. She stressed how important it is for all communities to be counted. She offered her contact information as an open resource for those who participated in the event.
The first panel of the day included Orange County Register politics reporter, Brooke Staggs, anchor and reporter from Univision Communications Inc., Yarel Ramos, and Census Media Specialist from the U.S. Census Bureau, Jeanette Duárn Pacheco. Dean of the College of Communications, Dr. Bey-Ling Sha, was the host of this discussion. Participants learned what it is like to report on the U.S. Census in terms of newsworthiness from the panelists.
From left to right: Dr. Bey-Ling Sha, Yarel Ramos, Jeanette Durán Pacheco and Brooke Staggs (Adam Aranda / Twitter).
Next, Dean Sha gave a presentation about American Identities in Flux: Census Questions on Race and Ethnicity from 1790 to 2020. She covered the history and different ethnic and racial classifications presented in the U.S. Census from the beginning to this year's 2020 census.
The second panel of the day consisted of Orange County Register senior editor, Todd Harmonson, Orange County Register politics editor, Andre Mouchard and senior field representative from Congressman Gilbert R. Cisneros Jr., Erika Flores. Participants learned from the experiences of the panelists on how to report during sensitive times.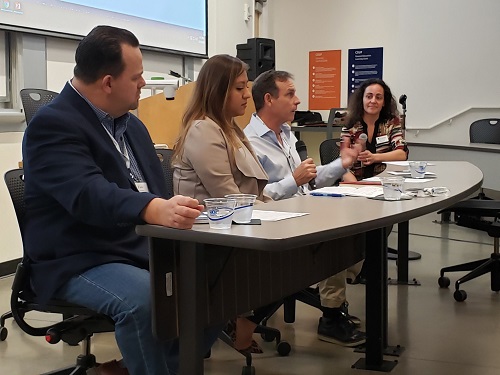 From left to right: Todd Harmonson, Erika Flores, Andre Mouchard, and Dr. Deanna Leone (Bey-Ling Sha / Twitter).
In between breaks students, faculty, and panelists mingled and networked.
Public Relations major and senior, Alexis Flores came to the event in hopes of seeing who would come and said, "Mostly, I love the professionals who are here and who are industry leaders but are still taking their time to come to talk to an entire community to students nonetheless."
The symposium event was held from 8:30 AM to 3:30 p.m and made possible with support from Univision.