Hispanic/Latino Media & Marketing International Conference
The 6th Hispanic/Latino Media & Marketing International Conference

was held at CSUF for the first time on February 16-18. The conference was hosted by the College of Communications, Latino Communications Initiative and the Maxwell Center for International Communications.
Sponsored by Univision

, Nielsen

and OCTA

the conference consisted of top professionals, scholars and academics in Latino media, communications, and marketing to share insights on reaching out and connecting with the nation's and region's largest growing demographic group.
The 3 day conference featured presentations from Univision, Nielsen, Facebook, NAHJ and many others.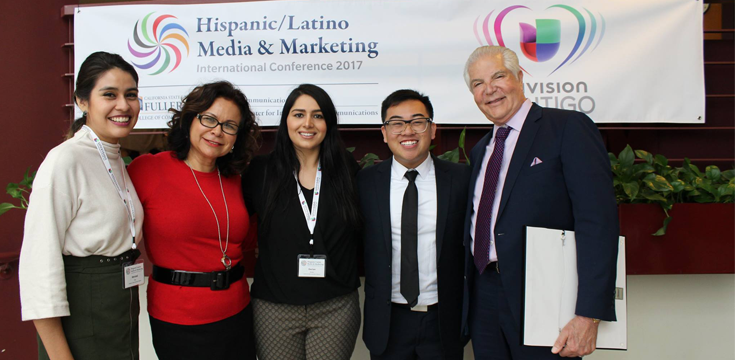 Khristel Diaz (Intern), Inez Gonzalez (Committee Co-Chair), Dorian Munoz (Intern), Andrew Vo (Intern) & Alex Nogales (President/C.E.O of NHMC)
"The conference was a great experience to help develop relationships with professionals and other students to encourage the hispanic community," claimed Viridiana Enriquez, HLMMIC conference intern. "I am so thankful to have worked alongside Inez and Dr.Kazoleas, as they mentored us student interns to help make this event possible."
Some of the top highlights from the conference include a special luncheon where Stacie de Armas from Nielson, presented the latest trends in Hispanic demographics. Other highlights include a speech from Luis Patino, the Vice President of Univision Local Media Los Angeles and the Lifetime Achievement Award was given to Alex Nogales, the President and C.E.O of the National Hispanic Media Coalition.