Communications Student Leaders Thriving In Quarantine
By Jassica Razo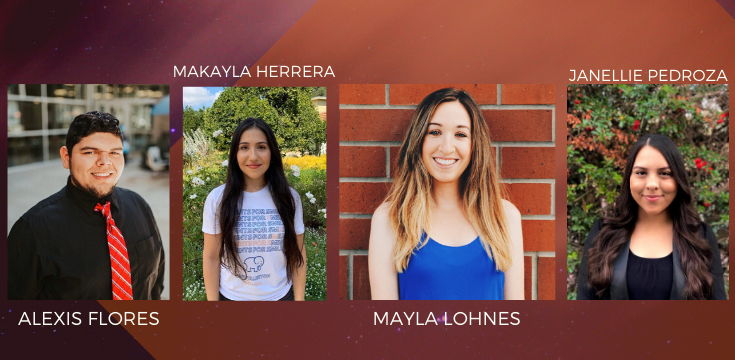 Since the Stay at Home order was implemented, Cal State Fullerton halted in-person instruction, and students have had to balance their personal and professional lives at home. Communications students, in particular, have stopped in-person media productions and processes and switched to a virtual protocol. For Comm student leaders, Alexis Flores, Janelli Pedroza, Mayla Lohnes, and Makayla Herrera, they have been keeping up with their leadership responsibilities and maintaining their professional lives at home.
Alexis Flores is a Public Relations major and has been maintaining three leadership positions this semester. He is the newsletter editor for the Latinos Communications Institute, is on the Public Relations Society of America committee for professional development and international conference, and is the executive director for Titan Public Relations. Despite working remotely, Flores hasn't skipped a beat when it comes to working. With his organizational skills and phone, he makes sure he sets reminders, is able to receive constant updates, can send emails to students, and create virtual socials for his fellow members.
Flores says, "Now that we're going fully online, it's really easy for me to stay on track of making sure on I'm on these meetings, talking to my executive boards, and getting members to come out on there."
Janelli Pedroza is a Journalism major and also has multiple leadership positions this semester. Pedroza is the University Relations Director for the Entertainment and Tourism Club, the social manager for the Latino Communications Institute, and before quarantine, she was the IGTV producer for Al Dia. Although there have been changes and cancellations, she has had to reevaluate what matters to her the most. Pedroza says, "What has really helped me stay productive and maintain a balance between my personal life, my student, and my professional life, is my planner." With the help of her planner, she stays on top of assignments, virtual meetings, and continues to progress until the semester ends.
 Mayla Lohnes, an Entertainment and Tourism major, is managing two student positions. She is on the executive board for the Entertainment and Tourism Club and is the Director of Internal Communications. Lohnes continues to hold online panels for the ETC club, attending virtual club meetings and checking in with her colleagues weekly.  Although being at home and away from her family and other close friends has been hard for Lohnes, she has been trying to stay motivated and focus on her leadership duties.
Lohnes said, "During the quarantine, I have taken up yoga workouts every day. Before the quarantine, I never worked out. Being stuck inside most days motivated me to want to do something that allowed me to move around and not just sit down all day."
Makayla Herrera, a Communications sciences and disorders major, is the president of Students for Smiles at Cal State Fullerton. At first, the pandemic had left Herrera with uncertainty, however, she found a rhythm in spacing out her time to attend virtual classes and checking in with family via FaceTime, to stay on top of work and organized. With the help of her team, Herrera has been able to have some flexibility in her work and adapted during this transition.
Herrera said, "Preceding the pandemic, time management had been a skill that I had been continuously practicing and strengthening. Because I feel that I am now in a position where I have honed this skill, it has served as a crucial asset to managing my role as President."
Quarantine has created obstacles, changed future plans, and canceled future events, but for these student leaders, they have managed to stay attentive in the face of the unexpected.