Two College of Communications Faculty Members Retire Spring 2017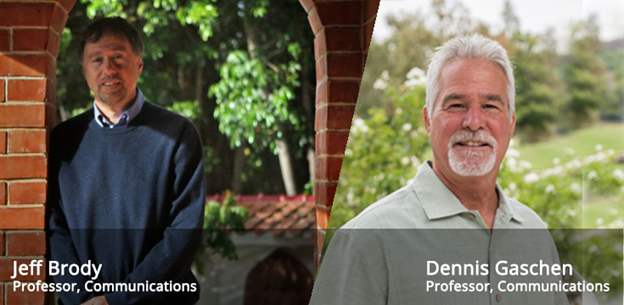 Two professors of communications, Jeff Brody and Dennis Gaschen, retired at the end of the 2016-2017 academic year.
 Jeff Brody, professor of communications, is retiring after 24 years at Cal State Fullerton. Brody began his career in journalism as a reporter; prior to joining the CSUF faculty, he worked for the Register, specializing in writing about Southeast Asian refugees and Little Saigon. He used his expertise to design a curriculum for student reporters at The Daily Titan and Tusk Magazine, where he served as faculty adviser.
 "I tried to better students' lives, to teach them to be ethical professionals and to help them adapt to the rapidly changing media landscape," said Brody.
 In retirement, Brody plans to teach one course, return to writing, do some documentary photography and travel.
 "I leave knowing that I founded an international journalism class that took students to Cambodia, Costa Rica, Guatemala and Vietnam. I also started Tusk Magazine and advised The Daily Titan. All with the purpose of laying the foundation for our students' futures," he said.
 Dennis Gaschen, professor of communications, is also retiring after 23 years at Cal State Fullerton. Throughout his time at CSUF, Gaschen served not only as an invaluable colleague and mentor, but also as adviser to the university's chapter of the Public Relations Student Society of America.
 "I am proud to say that Cal State Fullerton has been a part of my life for more than 40 years. First as a grad student, second as an advisory council members, and finally as a lecturer. I can honestly say that I received more than I have. Once a Titan, always a Titan," said Gaschen.
 After working in-house for 15 years, Gaschen began working as a public relations counselor; a job he has continued to do for 22 years. Throughout his career, he has worked with clients such as Medieval Times, UCI Medical Center, California Science Center, Girl Scouts of America, Planned Parenthood and American Red Cross.
 For nearly 15 years, Gaschen taught the Communications Week class at Cal State Fullerton; a major event hosted by the College of Communications for both CSUF students and the community at large that features over 50 speakers, panels and special events. In addition, he's written more than 85 articles on public relations, and served on PRSA's national, regional and local boards. In 2010, he was selected by the Public Relations Society of America to its College of Fellows, one of the highest individual honors in the profession. In 2017, Gaschen was named Distinguished Full-Time Faculty Member of the Year for the Department of Communications.