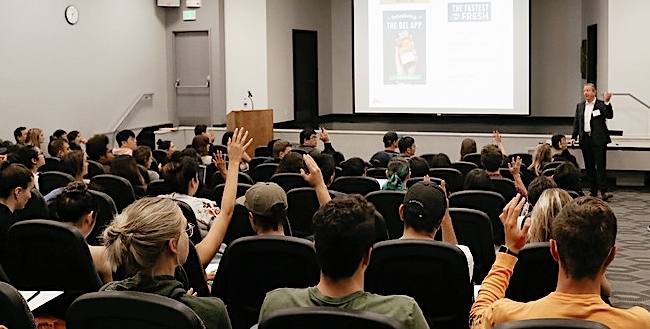 Pictured Above: Attendees raising hands during a seminar in 2019
WHAT IS COMM WEEK?
Communications Week is an annual communications industry conference hosted by the College of Communications at CSUF. Since Comm Week's introduction back in 1978, the event has succesfully provided our students valuable insight & tools to prepare for their future careers.
Comm Week typically hosts over 50 speakers, panels, and special events to connect professionals with students and other attendees about their experiences and areas of expertise.
In the past, we have brought filmmakers, TV show hosts, radio producers, PR practitioners, motivational speakers, news reporters, photographers, advertising execs, sports officials, visual artists, theme park execs, media publishers, and many more folks, all related to the various Communications fields.
The last two years Comm Week has been an online event due to the COVID-19 pandemic. Now, Comm Week is back in person for the 2022 school year.