Internship - A High Impact Practice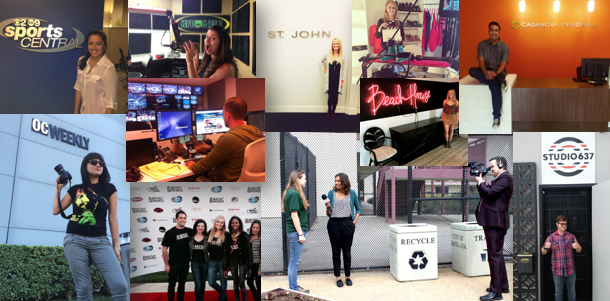 Students attending the College of Communications at Cal State Fullerton are serious about their education because they are serious about their plans following graduation. Under CSUF High Impact Practice guidelines, students are receiving experiential learning – hands-on practices – that make them more valuable in the marketplace.
An internship is the critical element in connecting academic experience to the professional work arena. It allows students to gain valuable exposure to the workplace, helps them build a network of industry contacts, provides the opportunity for skill development, and bestows a competitive edge in the job search.
Southern California is rich with internship opportunities serving the communications and entertainment industries. Examples of internship sites include news outlets, professional sports teams, television and radio stations, public relations and advertising agencies, healthcare institutions, non-profit organizations, film production companies, publishers, educational institutions, technology firms, and innumerable organizations covering the spectrum of the business landscape.
The Departments of Communications and Cinema and Television Arts require that students pursuing degrees in these majors complete an internship course as part of their undergraduate experience. Human Communication Studies majors are encouraged, though not required, to complete an internship. Students earn 3 units of credit for their COMM 495T, CTVA 495, or HCOM 495 internship, which is composed of a minimum of 120 hours in the field. Students are responsible for finding and securing their own internships, but resources and support abound from the Faculty Internship Coordinator, the Career Center, the Center for Internships and Community Engagement, and the Advising and Student Success Center, among others.