Kenneth Tom, Ph.D. CCC-SLP, Associate Professor in Communicative Disorders (CD) program was one of eight faculty at the Stanford Voice Course: Thinking Outside the Box (1/27-28, 2017). This conference was sponsored by Stanford University, Department of Otolaryngology Head and Neck Surgery.

Linda Pippert, adjunct faculty member in Communication Disorders, begins a new position as President Elect of the California Speech-Language-Hearing Association (CSHA) on June 1, 2017.

Once per month Dr. Grijalva and a group of California State University of Fullerton (CSUF) students dedicate their day to helping the community of Rosarito, Mexico.






Communicative Disorders students providing hearing education at 2017 Care Harbor Medical Outreach in Los Angeles.


Graduate students posed with a child clinic supervisor, Diane Collins, M.A. CCC-SLP.,  after successfully completing the spring 2017 Child Clinic practicum.

Newly admitted graduate class of fall 2017 met their peers  and faculty members , on April 28, 2017 at the Speech and Hearing Clinic.  


Graduate students with Drs. Saenz, Seung, and Tom posed together before marching to the 2017 commencement ceremony.


CD program 2017  Honors students , Desirae  Terrien ,  Hanan Elali, and Carina Barbosa (from the left), posed after their presentations.


NSSHLA board members spent time with their faculty advisors, Drs. Brock and Saenz) and program coordinator, Dr. Seung after the CSHA convention in Pasadena.  



Nomiees for Tuffy Awards Dr. Brock, Carsen Lane (current NSSHLA president), Christine Oda (STANCE member), Allison Ko (STANCE president), Justin Wu (STANCE member), and Dr. Saenz.  


Buddhist Tzu Chi Foundation was the recipient at the 2017 Community Engagement award. Dr. Tsao and her students who volunteered at the Tzu Chi posed at the event.   



2017 Communication Sciences and Disorders students who received their M.A. degree, the faculty memebers (Brock, Cooper, Kitselman, Kim, Saenz, Seung, Tsao, Weir-Mayta, Wyatt) and the President, Dr. Garcia.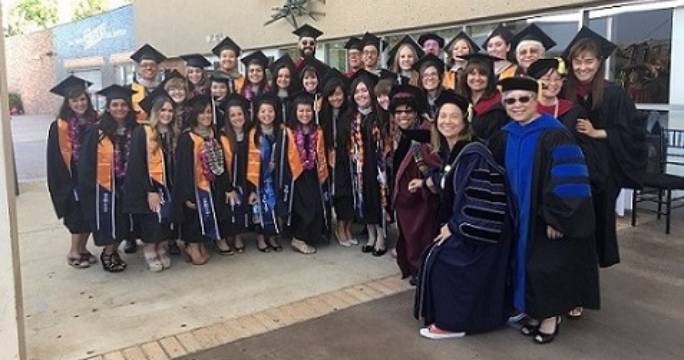 Our Communicative Disorders faculty being productive at their 2016 summer retreat