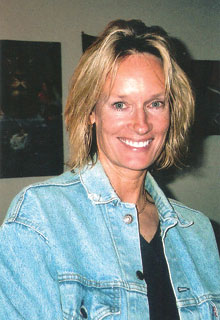 Department: Cinema and Television Arts
Phone:   657-278-3545
Email:   jfrost@fullerton.edu
Office:   CP-650-19
Personal Website:
Degree:  Master of Fine Arts
Degree Area:   Motion Picture Production
Degree Univ:   University of Miami
Degree:    Masters in Cinema
Degree Area:  
Degree Univ:   San Fransico State University
Teaching Area:
Research Area:
Jacqueline Frost, Professor, has been with CSUF since 2002 primarily teachingCinematography, Documentary Production, Motion Picture Production 2, Directing and Experimental production.
She is currently producer and cinematographer on a feature length documentary on the life and work of Cuban born artist Ana Mendieta, Rebel By Nature(2015).  Frost has been cinematographer on narrative and documentary films that have screened in film festivals worldwide.
Her first book, "Cinematography for Directors: A Guide to Creative Collaboration" (2009), features excerpts from ASC cinematographers such as Roger Deakins (A Beautiful Mind), Matthew Libatique (Black Swan), Rodrigo Prieto (Brokeback Mountain), John Seale (The English Patient) amongst others.
Her upcoming book "Eye Behind the Lens, A Conversation with Contemporary Cinematographers," contains full interviews with fifteen esteemed members of the American Society of Cinematographers including Salvatore Totino (The Davinchi Code), Dante Spinotti (Public Enemies), John Bailey (Ordinary People), Ellen Kuras (Eternal Sunshine of the Spotless Mind), Seamus McGarvey (The Hours) and others.
EDUCATION
Frost earned her Master of Fine Arts degree in Motion Picture Production from the University of Miami and her Masters in Cinema from San Francisco State University.