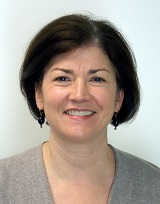 Department | Cinema and Television Arts
Phone | 657-278-5863
Email | hosborne@fullerton.edu
Office | CP 650-13
Office Hours | Mo. & We 1:00-2:00pm
Degree and University | Ph.D., M.A. - University of Southern California, 2004 | B.A. - University of New Hampshire, 1992
Heather Osborne-Thompson is an Associate Professor of Television Studies in the Department of Radio-TV-Film at California State University Fullerton. She received her B.A. in English with a concentration in Journalism and went on to pursue an M.A. and a Ph.D. in Cinema-Television Critical Studies. Her research focuses on the intersections of gender and genre in television, both historical and contemporary.
EDUCATION
Ph.D. University of Southern California, 2004
M.A. University of Southern California, 1997
B.A. University of New Hampshire, 1992
SELECTED PUBLICATIONS
"Commentary and Criticism: Seriality and Assisted Reproductive Technologies in Celebrity Reality Television." Feminist Media Studies 14.5 (2014): 1-4.
"The Bionic Woman 2.0." Velvet Light Trap 64 (Fall 2009): 82-83.
"Tracing the 'Fake' Candidate in American Television Comedy." Satire TV: Politics and Comedy in the Post-Network Era. Ed. Jonathan Gray, Jeffrey P. Jones, and Ethan Thompson. (New York University Press, 2009): 64-82.
"The Comedic Treatment of Reality in Kathy Griffin: My Life on the 'D' List, Fat Actress, and The Comeback." Reality TV: Remaking Television Culture, Second Edition. Ed. Susan Murray and Laurie Ouellette. (New York University Press, 2009): 278-298.
CLASSES
CTVA 302 Critical Studies: Television
CTVA 349T Writing about the Moving Image
CTVA 361 American TV: Beginnings -1980
CTVA 365 Children's TV