Department of Communications | April 2019
Alumni Spotlight: Courtney Force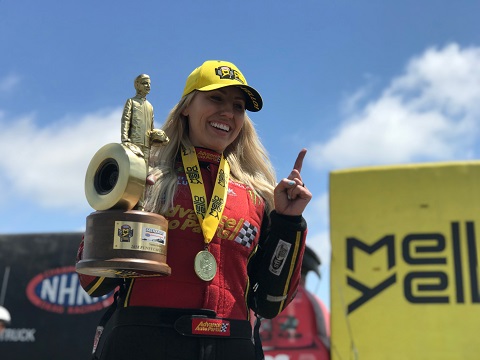 Courtney Force didn't begin her school week like most students at Cal State Fullerton. Just about every Monday she would race the clock, trying to make a 7 p.m. class after catching a flight back to Orange County earlier that day.
As if she didn't get enough racing in during the weekends already.
"I was racing Top Alcohol Dragster, which is one step below going pro," Force (class of 2010) said about her college days. "I was able to do my college schedule all the way up until a Thursday morning class so I can catch a Thursday night flight, so I could fly to whatever state I would be racing in. I'd race Friday, Saturday, Sunday, and then I'd fly home Monday morning."
It was a typical weekend that would eventually lead her to a majorly successful career as a professional drag racer. Courtney is the winningest female Funny Car driver in NHRA history. She was a top 10 finisher in the NHRA Mello Yello Drag Racing Series in six of her seven professional seasons, four national event wins and was the first woman to win the O'Reilly Auto Parts Winternationals. Force has thirteen career wins and thirty career final rounds. She has developed a multitudinous fanbase, with almost 400,000 followers between Instagram, Twitter and Facebook.
Racing runs in the family. Her dad, John Force, is a 16-time Funny Car champion driver. Her older sisters, Ashley (CSUF class of 2004, B.A. Radio-TV-Film) and Brittany (CSUF Class of 2010, B.A. English), were also successful drag racers (Ashley has stepped away but Brittany is currently active). Courtney has wanted to race since she was a kid.
"It's a family business," says Courtney. "I grew up watching my dad race a Funny Car. I fell in love with it and knew that when I grew up I wanted to race cars, and I wanted to compete against him in a Funny Car. I told my dad he couldn't retire until I got to be out there competing against him. I was able to do it….I started out when I was 16. I was still in high school. Then I raced Top Alcohol Dragster, which is a step up from that. They go 270 miles an hour in five seconds. I did that for another three years. I picked up a win in that category."
Force is an Orange County native, residing in Yorba Linda and attended Esperanza High School before transferring to CSUF from Santiago Canyon College. As a college student, Force had to use any free time she had to get her school work done, which included doing homework on the plane while traveling to different parts of the country to compete.
"That's what it took to make it work," says Force. "I tried to knock out college as quickly as I could so I could just get to my career and get to where I wanted to be in life. It was great because the teachers and the classes were excellent. And obviously, I really learned a lot and had a lot of fun with it. It's a great school and great community. For me, I had fun with it and got to go through. I took a lot of my classes, I took them all year long. I took them through the winter sessions and summer. I did everything just to try to see if I could knock it out."
She was still a student when she won the 2009 Seattle NHRA race in Top Alcohol Dragster in NHRA Lucas Oil Drag Racing Series. Despite her accomplishments, Force wanted to be treated as a normal student.
"To be honest, I feel like I flew under the radar," says Force. "I was gone every weekend racing….My priority was my career, my future career I should say."
Force officially went pro after finishing school. She finished the last of her classes in the Winter of 2010 and walked in the commencement ceremony in the summer of 2011. After maintaining a difficult student-racing balancing act for almost five years, walking in the College of Communications commencement ceremony was one of the proudest moments of her life.
"It was a huge achievement. That was the one thing where I said I for sure want to walk," says Force. "I don't want to miss it. I want to be in a cap and gown. And I don't want to regret not walking. So I did the commencement ceremony and got to walk. It's just a prideful moment. All of the years and all of the hard work that you've spent in college, I think you kind of owe it to yourself to have that weight lifted off of you and have that moment of pride of everything that you've accomplished. And really, to kick off the start of the next chapter of your life."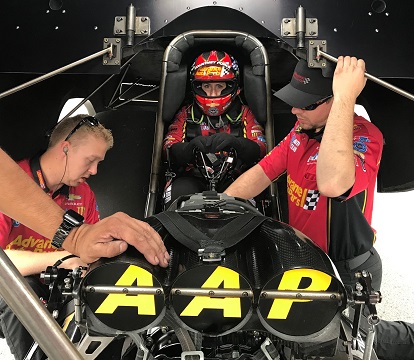 Courtney chose to major in Communications (emphasis Entertainment Studies) because she felt it would compliment her racing career. Working with media is part of the job when it comes to being a professional athlete. She felt a Communications degree would teach her how to interact with the media better.
"I said you know what, I'm going to look at entertainment studies because that path really is what helped set me up with understanding how to work on really the other side of racing," says Force. "It's not just being in a racecar driving the car. That's just part of the job. I think the most important part of our job is really working with the media, doing interviews, and understanding working with people and the camera and all of that. So that's the path I took to understand the behind the scenes of working with media."
After a seven professional seasons, Force decided in January 2019 to step away from racing. But she has not completely ruled out returning to the sport.
"I don't think I could ever rule that out," says Force "But we'll see."