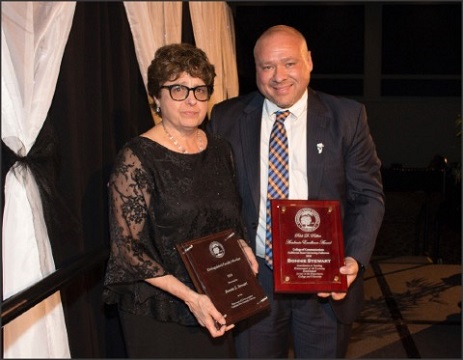 Bonnie Stewartwon the Rick D. Pullen Academic Excellence Award and was named by the faculty as the 2018 Distinguished Full-Time Faculty Member.
Stewart joined the faculty in 2013 following a 30-year career in journalism and journalism education, including at the Indianapolis News, the Indianapolis Star, the Riverside Press-Enterprise, West Virginia University, and Oregon Public Broadcasting.
Stewart is the author of No. 9: The 1968 Farmington Coal Mine Disasterand successfully fought at subpoena in 2015 for her notes and interview transcripts as part of a lawsuit filed against a coal company in part as a result of her reporting.
At CSUF, Stewart manages crises on call 24 hours/7 days a week as adviser of a daily student news organization; led her student to win nearly 100 student media awards over five years; coordinated and led dozens of students on more than 10 trips to student media conferences across the country; advocates passionately and thoughtfully for student First Amendment rights; was the inaugural instructor of a new required multimedia reporting class; coordinated acquisition and roll-out of student multimedia equipment and backpack journalism kits; brought back to life specialized electives in public affairs and investigative reporting; built relationships with professional experts across the country to provide professional mentorship to students; revamped a defunct student chapter of the Society of Professional Journalists (SPJ); and led curriculum and assessment efforts.
In 2016, Stewart was recognized with a CSUF university-wide "outstanding teaching" award. "In her role as advisor of the Daily Titan for the last five years, Bonnie demonstrates calm, confident leadership," one faculty member wrote in nominating Stewart. "Bonnie is an informed, articulate advocate for student First Amendment rights on our campus. She doesn't stand in front of her students by sheltering them or telling them what to do. Instead, she gets out of the way and stands behind her students, supporting and encouraging their work and advocacy."
The Pullen award, created by Dean Emeritus Rick Pullen, is presented to one professor in the College of Communications who has made a significant contribution to teaching and enhancement of the learning environment. Past recipients include: Kenneth Tom, COMD (2017); Andi Stein, COMM (2016); Jeanine Congalton, HCOM (2015); Jule Selbo, CTVA (2014); Carolyn Coal, COMM (2013); Edith Li, COMD (2012), and Philippe Perebinossoff, CTVA (2011).