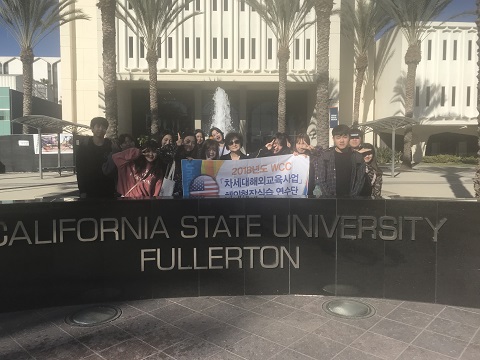 Cal State Fullerton hosted 14 South Korean Students for three weeks as part of a DIMA Global Workshop. The program allows the best of the best from the Dong-ah Institute of Media and Arts in the Gyeonggi province to immerse themselves in the American culture in addition to a study abroad experience.
"While, I'm here, going to all the film locations, like Universal Studios and some neighborhoods out here that I can only see in the screen back in Korea, that was fun to see," says Leonard Choi, a 24-year-old student from Seoul. "Going to Santa Monica was great as well."
For Choi and many of his peers, this is their first time in the United States. Some of the classes they are taking include speech and communications, COMM theory and video production. Outside of the classroom, the students got the opportunity to explore different parts of Southern California, including Santa Monica and Universal Studios.
"They are some of the hardest young people I've ever worked with," says Professor Beth Georges, who has worked with the program for six years. "To get into DIMA, they have to be the best students. To be able to come on this trip, they're the best of DIMA students so these students are amazing. And it's really a cultural experience. So everything from the tours that we take them on to the learning in the classroom, it's all about emersion into the United States, the education here as well as how life works."
The students returned to South Korea on Wednesday, January 23rd.