Department of Communications

| November 2018
Anaheim Ducks give tour to CSUF journalism students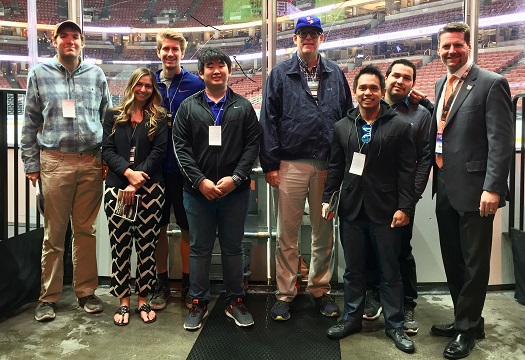 The Anaheim Ducks gave a home ice tour to six Cal State Fullerton journalism students during the Ducks' "CSUF Night" at the Honda Center. The students got to learn a bit of history of the Honda Center before seeing the behind-the-scenes operations for game day procedures, including the LIVE TV broadcast, jumbotron preparations, the press box, and where NHL officials work to provide live updates on the statcast. The students got to watch the Ducks play the Minnesota Wild after the tour.
     "I believe for anyone who wants to get into sports reporting, whether it's on the production side or on field, it is necessary to have these experiences," says senior Eduardo Hernandez, who attended the tour. "You go behind the scenes and talk to people who tell you the job is fun and they have many years in the business."
     Hernandez was one of several students in the tour that are currently taking a sports reporting class taught by former L.A. Times and N.Y. Times reporter Walt Baranger. The class allows students to get real world sports reporting experience by covering games and writing game recaps as if they were working for a professional news outlet.

     The tour was conducted and hosted by CSUF alumnus Aaron Teats, who works for the Ducks as the Chief Marketing Officer after spending time with the television and radio broadcasts for ten years. Teats is a member of the CSUF Communications Alumni Wall of Fame.