Department of Communications | March 2019
Comm students, staff attend CMA Spring National Convention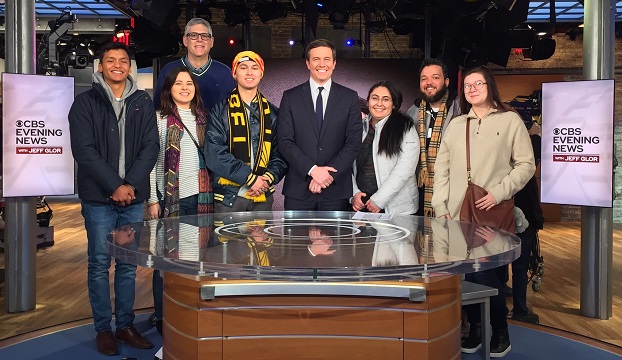 Twelve COMM students and faculty members attended the College Media Association's Spring National College Media Convention at the Mariott Marquis in New York City. During the four day event, the students got and improve their journalism skills while some faculty gave presentations at the convention.  Daily Titan Editors Hosam Elattar and Megan Garcia won second place in the Iron Reporter competition. Professors Jesus Ayala, Chelsea Reynolds and Walt Baranger gave presentations. Department Chair Jason Shepard also attended.
Outside of the convention, Baranger and eight students toured the CBS Broadcast Center and the studios of WNYC/WQXR. The students were Korryn Sanchez, Emily Mifflin, Julian Serrano, Dominic Torres, Michelle Ibanez (WNYC tour) and Kameron Legon (WNYC tour) along with Elattar and Garcia.
The students got to visit the control room of the CBS Broadcast center and watch the March 7 edition of the "CBS Evening News with Jeff Glor." The students got to meet Glor and the CBS streaming media producers after the show where they explained CBS's strategies for reaching viewers who don't own televisions.
At the WNYC/WQXR radio tour, the students toured the newsroom, discussed challenges facing radio broadcasters and how WNYC was integrating with online news organization Gothamist.com (who purchased WNYC). WNYC's newsroom was used as the model for Clark Kent's Daily Planet newspaper in the Superman comics.
Between the two tours, the students got to see how print, online, television and radio overlap in their news coverage and how the mediums are constantly evolving.