Department of Communications

| January 2019
Comm student wins RTNA Hal Fishman Memorial Scholaship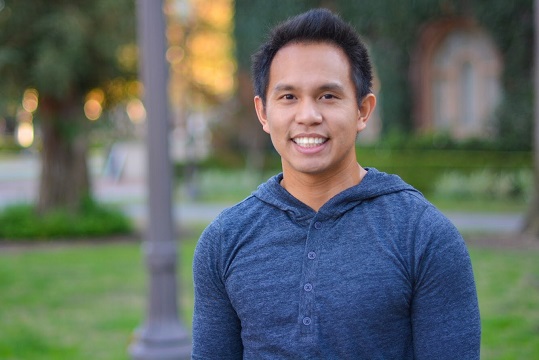 The Radio and Television News Association of Southern California awarded California State University, Fullerton communications graduate student Derek Opina with the Hal Fishman Memorial Scholarship for 2019. The scholarship and plaque was presented during the Golden Mike awards on Saturday, January 19th at the Universal Hilton. 
"It's really awesome. I feel incredibly humbled and honored that RTNA chose me for this prestigious recognition," says Opina, who also completed his undergrad at CSUF. He is currently in his first year as a graduate student. "Part of what I wrote for the scholarship application is that I want to use my post graduate degree to teach journalism in college. So I am super thankful that RTNA wants to help me achieve this goal. Their investment in me is an investment into the future of journalism because I want to my future students to grow and develop into the best journalists that they can be. I'm glad RTNA and the scholarship committee chose to believe in this vision."
The Golden Mike awards honor some of the best broadcast work for television and radio. This year's Lifetime Achievement Award winners included longtime radio host Larry Mantle, KTLA anchor Gayle Anderson and popular radio peronality/icon Vic "The Brick" Jacobs.
Opina is one of three scholarhsip award winners, to go along with the Jerry Dunphy and Jim Zaillian Memorial Scholarships. The Hal Fishman Memorial was named after KTLA's long-time anchor, Hal Fishman. He was KTLA's long-time news anchor and was a 47-year news veteran before before passing away in 2007 from colon cancer. 
RTNA describes themselves on their website as a non-profit organization of professional broadcast journalists that are deidcated to protecting the First Amendment, promotes excellence in local broadcast journalsim through the "Golden Mike Awards" and encourage the development of excellent student journalists.