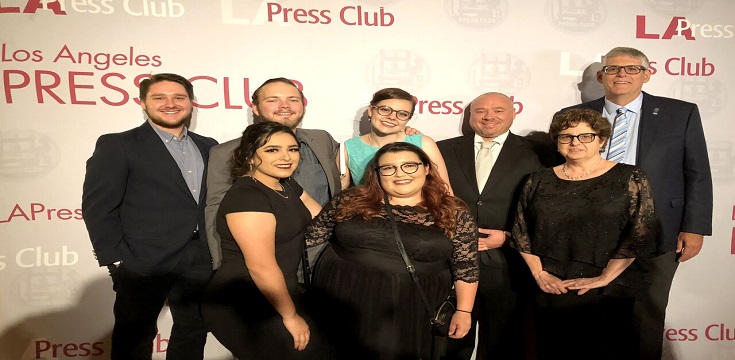 The Daily Titan won 53 awards during the 2017-18 academic year, perhaps a record in the impressive, 59-year legacy of independent student journalism at Cal State Fullerton.
The Daily Titan has thrived under the guidance of faculty advisers Bonnie Steward (editorial) and Michelle Kurland (advertising), both full-time lecturers in the Department of Communications.
The student-run print and online news organization was named first-place best-in-show from the Associated Collegiate Press. It was named "Most Outstanding College Newspaper" by the Americans Scholastic Press Association and it was a finalist for best daily student newspaper by the Los Angeles Press Club and the Society of Professional Journalists.
As a testament to its online strategies, the Daily Titan also won awards for best news website, social media platform, multimedia packages and multimedia presentation. Students also won dozens of awards for writing, reporting, photography, design and illustration.
Student Bryant Freese also won numerous awards for his investigative story on turmoil inside the women's basketball team that led to the departure of the team's coach. Frees's story won first place in the national Hearst Awards Competition, with a $3,000 prize and matching grand to the Department, as well as top reporting awards from the American Scholastic Press Association and the California College Media Association.
On the advertising side, students won awards for audience engagement strategy, guerilla marketing, promotional materials, special sections, display ads and fun page.