Department of Communications

| October 2018
FOX Sports West invites communications students to Angel Stadium to tour pregame broadcast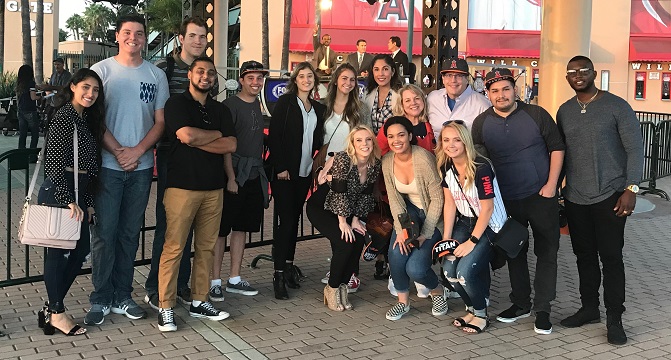 Students from the Department of Communications at Cal State Fullerton spent a recent Friday evening with FOX Sports West for an all-access tour of the game production process.
At Cal State Fullerton Angels' Baseball Night at Angel Stadium Sept. 28, fifteen Communications majors got to see the behind the scenes process of how FOX Sports West prepares to LIVE broadcast an Angels game.
Parts of the half-hour tour included watching the pre-game show, touring the control room in the production trailer, seeing the replay center, learning about the different positions of the crew and meeting some of the on broadcasters. The students walked away from the experience with a better idea of how much work goes into preparing to cover a professional baseball game.
"It was a good inside look into what the actual production looks like," says senior Broadcast Journalism major Chloe Abbott. "All the moving parts that make production happen every day."
Students who attended the tour had a specific interest in sports media and technology.
"It was cool to see a professional set and the production truck," says senior Broadcast Journalism major Kush Pariksh. "I have worked in CSUF's production room but being able to experience a MLB production studio was something out of this world! I also got to meet some [of the] biggest broadcasters in baseball which was a cool experience."
Former Cal State Fullerton second basement and All-American Jose Mota was among the broadcasters working the game while the students toured. Mota is a graduate of the COMM program and a member of the Department's Alumni Wall of Fame.
After the tour, the students took a picture with Angels reporter Alex Curry and got to watch the game. The Angels went on to defeat the Oakland Athletics 8-5.