Department of Communications | March 2019
Broadcast Journalism students tour KESQ newsroom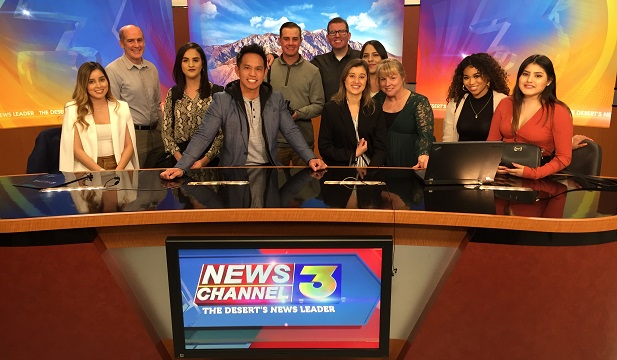 Nine Broadcast Journalism students, along with professor Beth Georges, traveled to Palm Springs to tour the KESQ newsroom. KESQ is the ABC/CBS/FOX/Telemundo affiliate in the Coachella Valley and news leader in the market.
KESQ assistant news director Tim Kiley served as the gracious tour guide and showed the students the ins and outs of the KESQ's daily operations. It was an opportunity for the students to see how what they learn in the classroom is applied to a professional enviornment, including producing newscasts, LIVE shots and reporting. Kiley showed off some of KESQ's new LIVE shot technology, which includes the use of LIVE-U backpacks that allow MMJ's to go live via cell phone signal and a LIVE-U app that allows reporters to feed video directly from their phone to the station's program. MMJ's can go LIVE using the app anytime and anywhere, as long as they have a good cell phone connection. It was part of seeing how a local TV news station is adapting with evolving technology.
"The visit to KESQ was super cool," says senior broadcast journalism major Alex Esparza. "There's only so much you can learn in a classroom so it was nice to actually be in a newsroom and see how everything works and how everyone is equally important to the show. Like it's a team effort."
"I think it's definitely different from being in the studio on campus," said senior broadcast journalism major Marciela Perez. "Actually seeing it here live and how one person has multiple tasks, like the producer did teleprompter but also oversaw the reporters. I think it's definitely how they say, that you have to know how to multitask. "
The students watched the first block of the 5 p.m. show from inside the studio before watching the rest of it from the KESQ control room, where they got to see the director and producer run the show. The students got to meet some of the on-air staff, which includes longtime KESQ anchor and former CSUF Titan Karen Devine. 
"It is so nice to have them come in," said Devine (Class of 89). "It's hard to keep in touch or touch base with where I went to school living far away. It's nice to see some hungry people wanting to go into the same business. It reminds me of how I felt 30 years ago. I hope they noticed how many jobs there are in broadcast television. It's not about being a reporter or anchor. You have editors and producers and assignement editors and news directors, assistant news directors. There are a lot of different jobs here. So if you are not fitting into one mold right now but you like broadcast journalism, you have an opportunity within this career choice to find a job."
KESQ has had several Fullerton Titans work for them in the past and present, including current KTLA digital anchor Samantha Cortese, current KESQ sports director Blake Arthur, current FOX 5 San Diego news reporter Phil Blauer and KFSN Fresno sports anchor Jason Oliveira.