Department of Communications

| November 2018
Producer and author Michael Beinhorn speaks to COMM students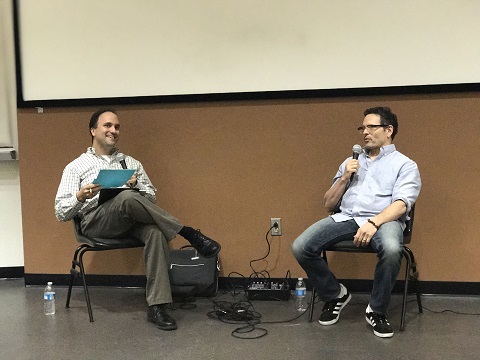 Producer and author Michael Beinhorn spoke to approximately 80 Communications students on Monday, November 5, about his experiences and opinions from his four-decade career working in the music industry.
Funded by a Visiting Professionals Grant from the California State University Entertainment Alliance, the two-hour talk was moderated by COMM 448T professor Waleed Rashidi, in conjunction with his Entertainment Industry Studies course covering the music industry. Students from other Communications courses were also in attendance.
Beinhorn took questions from students in the audience in the second hour and hosted a one-on-one networking opportunity with CSUF students at the end of the talk.
Beinhorn has helmed the production processes of Grammy Award-winning and nominated recordings by Herbie Hancock, Red Hot Chili Peppers, Soundgarden, Hole, Korn and Soul Asylum. Beinhorn released a book in 2015, "Unlocking Creativity: A Producer's Guide to Making Music Art," via Hal Leonard Publishing, detailing his methods and interactions with various musicians in the studio.