COMM Expands Spanish-Media Partnerships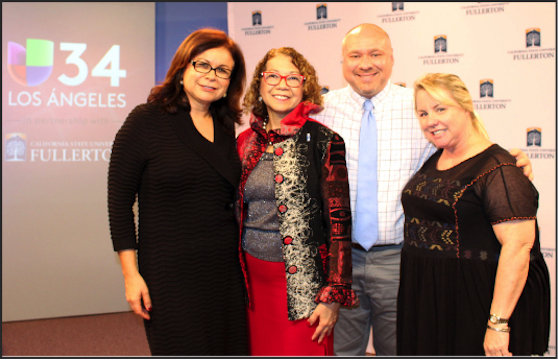 The Department of Communications continues to expand partnerships supporting students interested in Spanish-language media in conjunction with the Latino Communications Initiative (LCI).
The Fall 2016 semester saw several key projects come together under the leadership of LCI Director Inez Gonzalez, including the opening of Univision's news bureau on campus, the final approval of the Writing for Spanish Media academic certificate, and the expansion of Al Dia, a Spanish-language news show.
CSUF President Dr. Mildred Garcia attended a ribbon cutting ceremony in December for Univision's new campus bureau, housed in Pollak Library adjacent to the Department's broadcast journalism labs and Titan Communications studios.
Univision, the largest Spanish-language television network in the world, already employs several COMM graduates and semester interns. Univision reporter Francisco Ugalde, who will be based at the CSUF news bureau, and others will also work with journalism classes.
Also this fall, the CSUF Academic Senate gave final approval to the Writing for Spanish Media certificate, an innovative four-course certificate that allows COMM students to develop Spanish writing and media skills. The certificate is co-sponsored with the Department of Modern Literature and Languages. Dr. James Hussar, MLL chair, and Dr. Ed Fink, acting dean of the College of Communications, helped secure final approvals.
The Department is also expanding its Spanish-language broadcast news program Al Dia, created by lecturer Beth Georges. The news show is produced through a journalism capstone course and also open to student volunteers. Veteran journalist Gerardo Lopez, former executive editor of La Opinión and senior editor at Univision, will team-teach the class with Georges this spring.
"Spanish-language media is a growth market, and these partnerships are already providing new opportunities for our students," says Department of Communications Chair Dr. Jason Shepard.