Retirees Celebrate 109 Years as Journalists, Professors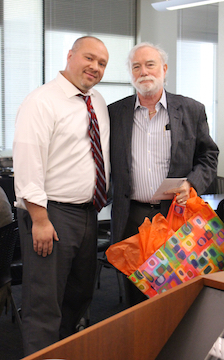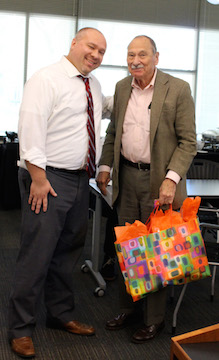 The Department of Communications celebrated 109 years of combined service to the journalism profession and higher education as it said farewell to retiring lecturers Tom Clanin and Mel Opotowsky.
This fall, Tom Clanin wrapped up his final semester as a full-time lecturer for the Department, following a 46-year career as a journalist and educator. Opotowsky, with a 63-year career as a journalist and educator, attributes his part-timer retirement to the worsening traffic on the 91 freeway.
Clanin began his career as a journalist in 1970, after graduating with an Associate's Degree in Mathematics from Bakersfield College. He started as a reporter for the East Whittier Review and moved his way up to news editor and city editor over 12 years. He then moved to the San Gabriel Valley Tribune before being hired as news editor of the Orange Coast Daily Pilot, a position he held for six years before joining the Orange County Register in 1990. During Clanin's 26 years as a professional journalist, he earned his bachelor's degree in Communications from Cal State Fullerton.
Clanin went on to earn his master's degree from the Department of Communications in 1998, and he was awarded the outstanding graduate student award by the faculty of this department.
Clanin then began a 22-year career as an educator in the Department. He started as a part-time instructor in 1994 and became a full-time lecturer in 1998. He taught many classes, including intro core courses COMM 101: Writing for Mass Media and COMM 233: Mass Media in Modern Society, and several core electives, including media effects and media ethics. He also taught many journalism courses, including the intro and capstone courses.
Clanin also served as adviser to the Daily Titan for six years.
Over the years, Clanin won numerous awards. He was named outstanding part-time faculty member in 1998 and was recognized for outstanding service to the university in 2006.
In 2008, Clanin was named Journalism Educator of the Year from the California Journalism Education Coalition. He has served on dozens of committees and given countless presentations to high schools, community colleges, and local, regional and state conferences.
Mel Opotowksy's career as a journalist and educator spans 63 years.
For nearly two decades, Opotowsky served as a distinguished part-time faculty member with the Department, teaching courses including feature article writing, writing for mass media, mass media ethics and public affairs reporting. He created the News Literacy course in collaboration with the news literacy project at SUNY Stonybrook.
He is a past recipient of the outstanding part-time faculty member of the year and served four the last four years the as the Department's part-time faculty representative at faculty meetings.
Opotowsky brought a wealth of experience and leadership to the classroom. His journalism career began in 1953 as publisher of the Sea Coast Echo, a small weekly newspaper in Bay St. Louis, Mississippi. He moved to UPI, and in 1963, he began a 10-year stint at Newsday. He came to Southern California in 1973 to join the Riverside Press Enterprise, where he worked for more than 25 years, including as managing editor.
Opotowsky also served in many leadership roles of distinction around the state and country.