COMM Faculty Recognized for Outstanding Teaching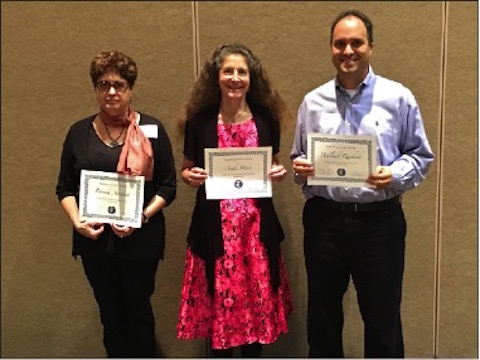 Three faculty members of the Department of Communications were recognized for excellence in teaching at the annual recognition ceremony sponsored by CSUF's Faculty Development Center.
During her 16 years of teaching in the Department of Communications, Dr. Andi Stein has taught 18 different courses, ranging from undergraduate skills classes to graduate seminars.
Dr. Stein's discussion-based teaching style promotes inclusiveness and helps build a sense of community within the classroom.
Dr. Stein's student evaluations consistently fall within the Department's "excellent" category. Students have described her as someone who is "extremely passionate" and who "cares very much about the well being of the students."
As Graduate Program Coordinator, Dr. Stein is also responsible for advising the Department's graduate students. She makes a concerted effort to get to know all of the graduate students in order to help them successfully navigate their way through the program.
She also mentors and counsels students by providing them with resources and advice that will enable them to be successful in their careers and lives beyond CSUF.
Bonnie Stewart is a full-time lecturer in the Department of Communications and adviser for the Daily Titan, one of the university's premiere High Impact Practices. She teaches courses in introductory reporting, multimedia reporting and public affairs reporting, as well as the journalism capstone class of Daily Titan reporters.
Prof. Stewart's teaching evaluations consistently fall in the Department's "excellent" category, and her students regularly praise her accessibility, professionalism and dedication. Her students call her "inspirational" and say her "passion for journalism and teaching shines every time she's in class."
In her role as Daily Titan adviser, Prof. Stewart provides skillful mentorship and support for a student-run news organization and has led students to win more than 50 regional, state and national awards in the last three years. She is on-call 24 hours a day, seven days a week and handles many bureaucratic and administrative functions in support of student learning.
She also serves as the advisor of the Society of Professional Journalists student chapter.
While Dr. Waleed Rashidi is the Department's newest tenure-track faculty member, he is no stranger to its students.
As a full-time lecturer for the past five years prior to earning his doctorate and being offered a tenure-track position in Spring 2016, Dr. Rashidi garnered incredible appreciation from his entertainment and tourism and public relations students. He teaches a variety of hands-on skills courses, including one of the Department's most significant High Impact Practice courses, which runs the annual COMM Week event. He also advises the Entertainment and Tourism Club, one of the university's most popular student clubs.
Dr. Rashidi has the distinction of having achieved the highest SOQ average of all full- and part-time faculty in the Department for the past several years, a testament to his excellence in teaching.