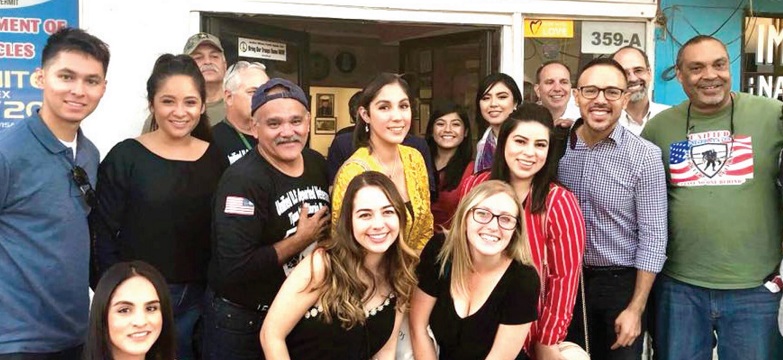 While some students studied about immigration from books and news articles, 10 journalism students from the Department of Communications reported on-the-ground from the U.S.-Mexico border in the Fall 2018 semester. Jesus Ayala, a new full-time lecturer and broadcast journalism veteran, directed the trip as a required on-site learning component for COMM 438T: Specialized Reporting. The course focused on the migrant caravan, migrant children, border militarization post 9/11 and NAFTA's influence on border towns. Students reported from both sides of the border and produced multimedia stories, which could be published nationally by CSUF partner Univision. The trip also included a four-hour tour with the U.S. Border Patrol.
Senior Jessica Cardenas was one of two student reporters who covered the migrant caravan's arrival to the border. "In Tijuana, I met two Honduran families who are fleeing gang-violence and seeking asylum in the US. Immigration is a complex, polarized issue and many migrants flee their home country because they simply had no choice," Cardenas said. "This trip allowed me to become more educated on this issue and listen to both sides of the spectrum. I'm forever grateful for this amazing experience and for allowing me to tell these stories. This class is the closest thing students have to a real-life reporting experience and the ultimate opportunity where we can go out and record the real important issues happening in the U.S.-Mexico border."
Before joining the Titan faculty last year, Ayala spent 15 years as a reporter and producer for ABC News and produced "End of the Road," a documentary about abandoned migrant children trying to reunite with parents in the United States. "Employers are really looking to hire someone to get the job done," he said. "Our students will have an advantage, and can say they've covered real stories working side-by-side with professional outlets."
That experience is invaluable because newsrooms want personable, team-oriented people who will be able to connect with the community, added Esmeralda Cisneros '16 (B.A. communications-journalism), a reporter and multimedia journalist at KECY-TV in Yuma, Arizona. As a Titan, she had a similar experience in a brief, international reporting course that traveled to Guatemala. "All the skills I have now I attribute to that class. I learned how to record video, edit and improve my writing. Most importantly, the course took me out of my comfort zone," she said. "As journalists, it's important to help society understand the complex issues happening at the southern border. We're at a time when several voices, stories and issues need to be heard."
The fall course was the second course in a curriculum curated by the College of Communications Latino Communications Institute (LCI) aimed at developing workforce-ready, bilingual graduates. In the spring, "Al Día," CSUF's first Spanish-language newscast became a class, also taught by Ayala, two years after its launch. "I'm very excited about the work that Jesus is doing to take the Spanish-bilingual, bicultural journalism curriculum to a new level at CSUF," said Inez González, director of LCI. "The fact that Jesus gives the students the option to produce their stories in either Spanish or English is a plus. This fits perfectly with LCI's mission to develop U.S. Latino cultural competency so our students are more competitive in the workforce."
You can view the students' work at: http://www.titanuniverse.org/reportsfrom-the-border.