Department of Communications

| October 2018
Journalism student featured on ESPN Snapchat Discovery channel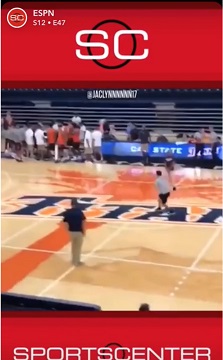 Video shot by journalism major Jaclyn Davis was featured on ESPN's Discovery channel on Snapchat. The video showed a student who won free In-N-Out for a year after sinking a halfcourt shot during halftime of the Men's Basketball blue-orange scrimmage. Davis shot the video on her phone while reporting on the game for Titan Sports.

Davis, a junior, was alerted by a friend that her video was featured on ESPN's Snapchat Discovery channel.

"It was so exciting seeing something that I recorded go up on SC on Snapchat!" says Davis. "Titan Sports is really giving me the experience I need to get to the place I need to be!"

Titan Sports is a Titan TV-affiliated club on campus that focuses on giving students the opportunity to cover athletic events as if they were working for a professional media outlet. Students who partake in Titan Sports get the opportunity to report, produce, anchor, shoot video and practice social media coverage.