Department of Communications

| July 2019
South Korean students conclude summer study abroad program at CSUF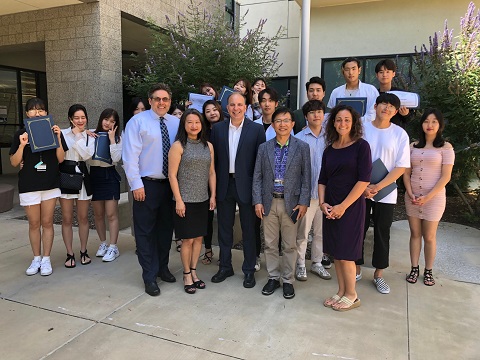 About 16 students from South Korea concluded their three weeks of summer education at Cal State Fullerton with a luncheon on Monday. The students attended CSUF as part of a DIMA Global Workshop. DIMA (Dong-ah Institute of Media and Arts) is located in the Gyeonggi province in South Korea.
The students showcased a newscast during the luncheon that featured some of the video work that they produced during their class time. The stories ranged from packages that covered serious issues to videos that were produced to have a more fun/light hearted tone. The videos were completely shot, written, directed and edited by the students. Some of the other classes they took included production, communications theory, public speaking and generally perfecting their ability to speak English. They also had a lecture on how entertainment is changing and marketing and public relations for Knott's Berry Farm.
Outside of the classroom, the students spent their time exploring Southern California, which included trips to Six Flags and Hollywood.