Department of Communications

| July 2019
Q & A session: getting to know the new Dean of the Department of Communications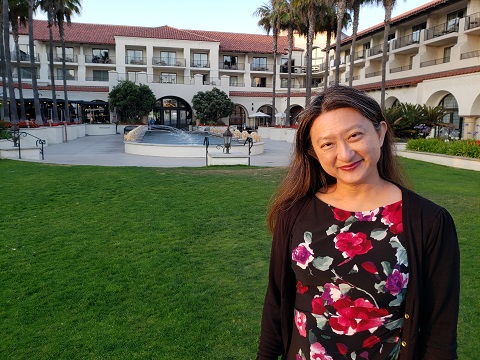 Dr. Bey-Ling Sha will enter her first academic year as the new dean of the Department of Communications at California State University, Fullerton. Originally from Houston, Dr. Sha attended Purdue University for her undergrad before obtaining her Master's and PhD at the University of Maryland. She comes to Cal State Fullerton after a 10+ year career at San Diego State. She sat down with us for a brief "get-to-know-the dean" Q & A.
What was your reaction when you found out that you would become the new dean of the department of communications at Cal State Fullerton?
I was super excited.
What made you want to apply for the dean position here?
 I was director at the school of journalism and media studies at San Diego State for five years. I felt that I had done a pretty good job there helping students and helping faculty members. I wanted to do something that was a little bit on a bigger level. When you go up from a department and the next step is a college, I really like the California State University system because I believe in it's mission of making excellent higher education accessible to people. So I wanted to stay in the Cal States. So I started to look around and I was really lucky that Fullerton happened to have a position open.
What are your goals for the department, both immediate and future?
 My goal for the short term is to get to know all of the faculty members because I think they are the most important people in terms of delivering a high quality student experience. So I want to get to know the faculty members, find out what they're doing, find out what their needs are and see what I can do to help them meet their needs…. Fullerton, like the other CSU campuses, is very resource constrained. So I think some of it is determining what we can offer to help people do what they do best, which is deliver outstanding curriculum to our students.
What made you want to obtain a background in communications?
When I was looking at graduate programs, what I really wanted to do was study intercultural communications. So I actually looked at the grad program at Fullerton because I wanted to study with Stella Ting-Toomey [and another professor] at the time. I got a very early taste of the budget realities in California because at the time that I applied for graduate school here, Fullerton was not able to offer me financial aid whereas the University of Maryland was basically offering me a total full ride. And so I ended up going to Maryland.
Now to your question about why, I think I was interested in intercultural communication because I'm the child of immigrants. When you grow up in an immigrant family, you really experience first hand how it feels to literally be on the boundary of a culture and have to utilize daily intercultural communication skills. Whether you're explaining stuff about school to your parents or explaining why you're eating fried rice at lunch to classmates who are making fun of you at the lunch table. So that's what I really wanted to do, was to study intercultural communication and cultural identity to look at how identity is formed as a result of communication, whether it's intercultural or monocultural. So I really think that's what drew me to Fullerton and I'm glad that I finally get to be here after all these years.
Complete this sentence: when Dr. Sha is not working, she is _?
 Playing "Words with Friends." I like to spell and I like to win. I mostly compete against myself. I use other people, they play and then it's my turn and I try to beat my own previous record. (Believes 603 at the time of this interview)
 If time and money were not a factor, what would you be doing right now?
 I think I would still be doing what I'm doing because I really like being in a place where I can make a difference in the lives of young people. I really like being in a place where I feel like I have the chance to make society better. And that's really why I'm here. Is to have the chance to make our society better through educating its young people.
 What is the biggest thing that you hope students get out of your deanship?
 I hope that our students leave here a better understanding with not only of themselves, which is typical of any college experience, but I also hope that they leave here with a better understanding for their own potential and their own personal efficacy in terms of their ability to contribute something to the world beyond themselves.
 Is there anything else we should know about you?
 I'm going to be having open houses with students. I'm working with our assistant dean Rob Flores to kind of schedule those. But I'm expecting we'll have one in September early on in the school year so people can get to know me and I can get to know the students which is much more important than the students knowing me. And then we'll probably have one around October and maybe Halloween because that's my favorite holiday.