Department of Communications

| September 2019
Comm students attend "photography for non-photographers" workshop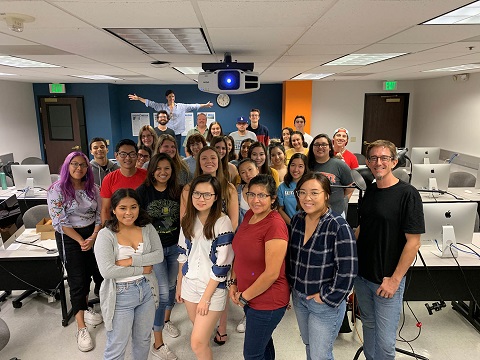 Over 30 Communications students attended the "Photography for Non-Photographers" workshop held Saturday, September 14, in College Park. The free event featured apparel photographer Damion Lloyd and portrait specialist Jackie Lovato, both of whom are Comm Department graduates. Mike Rice, the owner of Fullerton Cameras, also presented on finding camera and technical resources.
Organized by Comm instructor Davis Barber, instruction centered on making better pictures regardless of whether you are using a camera or a phone. PR major Ji Young An said "My favorite part during the photography workshop was when Damion taught us the tricks used in photos for advertisements and marketing like using fishing line to elevate the vape pen. I thought it was interesting because that is the type of thing I want to do in the future in addition to incorporating a lot of social media with it."
The morning tutorials were enhanced with door prizes ranging from coffee house gift certificates to Zelda stand up action figures.