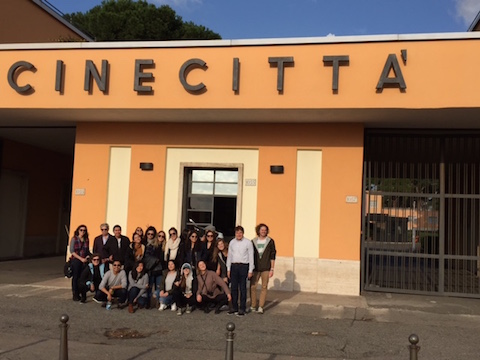 Dr. Tony Fellow   led a successful semester-long study abroad program in Florence, Italy, this fall.
Students were active in the community, assisting an abused women's center, writing screenplays, blogs and travel stories, and producing an edition of Titan Communications World Press television show.
Students from CSUF and Cal State Long Beach showed off their semester work at the farewell dinner during the last week of classes. Students enrolled in Art and Society assisted Nosotras, the center for abused immigrant women in Florence. They met weekly with center participants and crafted an art program to enable the women to express their problems.
Guided by CSULB Art Professor   Carlos Silveira, students and center participants put together a colorful mural, which will be framed and placed in the center as a lasting tribute to the friendship developed by CSU students and center participants.
Still others in CSUF Cinema and Television Arts professor   Dr. Jule Selbo's screenwriting courses produced and acted out their screenplays with Florence as the background. Meanwhile,   Dr. Robin Larsen's students crafted blogs about their travels and the people of Italy and Europe.
Fellow's Global Media Systems course produced an edition of the World Press Television Show. Stories included the plight of immigrant youths arriving at the ports of Palermo daily and an organization that is helping them assimilate and get educated. CSUF faculty met with many of the students, visited their neighborhoods and schools, and participated in a round-table discussion about the plight of some 1,300 immigrants entering Italy each day.
Faculty also participated in activities at the British Institute in Florence as well as the Florence campus of Stanford University and various writing groups held in the city.
"It was an amazing semester with an amazing group of students, who did not want to leave Italy," Fellow said. "I think all the faculty and students would agree that this was a high-impact teaching and learning experience, a truly life-changing educational experience."