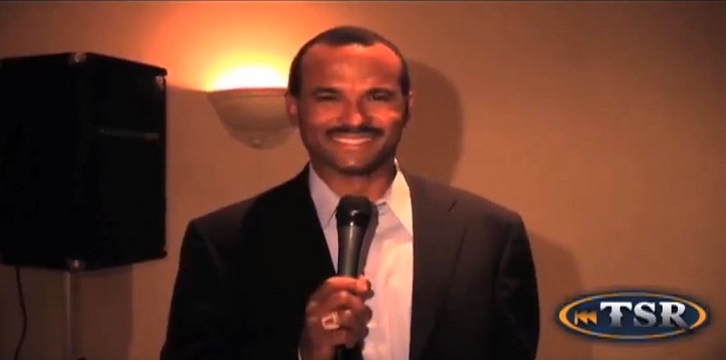 By Derek Opina
Growing up as an Angels fan, I remember watching José Mota broadcast the games on FOX Sports West. He always stuck out to me because he has such a unique voice. I really enjoyed the way that he told the story of the game as it unfolded on the TV.
What I didn't know at the time was that he was a former Cal State Fullerton Titan….and a proud one at that. It was only by chance that I discovered his Titan heritage. I was on my way to class and passing by the first floor of Langsdorf Hall when I saw his picture behind a glass case. It had Mota's picture, followed by a couple of identifiers such as "Angels Broadcaster" and "Communications Alumni."
"Super cool!" I thought at the time. I loved seeing how a guy I grew up watching once walked the same steps that I did.
Fast forward to the first time I met him. I was covering a "Dinner with the Titans" baseball event where former Titan baseball players Justin Turner (currently with LA Dodgers) and Ricky Romero (Former Blue Jays all-star) were the guest speakers. José was there. Me being a young, nervous broadcast journalism student at the time, I nervously went up to him and asked for an interview. He was happy to do it. Through the interview I was able to just feel how he exudes Titan Pride.
That's really the biggest thing I've noticed about former Titan athletes, regardless of the sport. Most of them are just so proud to be Titans. The spirit just rubbed off on me. Even some of Fullerton's most famous professionals, such as Turner and three-time NBA champion Bruce Bowen, never forget their Titan roots.
José gave me his e-mail that day. Fast forward again to 2019, I'm covering another story at Angel Stadium. Former CSUF Titan and NBC4 reporter Vikki Vargas was throwing out the first pitch before the Angels game against the Oakland Athletics. I figured it would be a good opportunity to double up with an "Alumni Spotlight" story with José. We chatted during the first inning.
José originally came to play baseball at CSUF. He was an All-American, helping the Titans win their second ever title in 1984. He played under legendary head coach Augie Garrido and was teammates with current head coach Rick Vanderhook.
"Being able to win there was the best experience I've ever had in my baseball career," says Mota, who was a second round pick by the Chicago White Sox in addition to spending time with the San Diego Padres and Kansas City Royals. "It beats playing in the big leagues because that was like a team unit. You went to school, you had a life outside of baseball. You needed to apply yourself as a student. You needed to keep your discipline within the team and learn the game."
Mota, who speaks English and Spanish, is in his 18th season as a broadcaster for the Angels. He used to visit broadcast booths as a child, which he says gave him a taste of what life could be like after baseball. He majored in Communications at CSUF, which helped him prepare for an ever-changing broadcasting and media landscape.
"Mainly in preparing me to face the day to day, the changes in media," said Mota when asked how his Communications degree helped him with his job. "The content and how you write. Obviously in how you speak and who you communicate with, your target audience and equipment….the professors were always saying, 'make sure you keep up with equipment because it's going to continue to change,' and the age of digital was coming. Who would have thought… look where we are now. You don't even need wires for your headphones."
As a long time Angels broadcaster, Mota has had the opportunity to see many Titans rise through the ranks and make it to the show. The Angels alone have two Titans between Noé Ramirez and Dustin Garneau. Other current Titans in the big leagues include Turner (LA Dodgers), Michael Lorenzen (Cincinnati Reds), Chris Devenski (Houston Astros), Matt Chapman (Oakland Athletics), Dylan Floro (LA Dodgers) and Khris Davis (Oakland Athletics) just to name a few.
"When I see players coming out of Fullerton there's one common thing that comes to mind: this guy knows how to play the game," said Mota. "I know he's been through the grind. I know he cares about his teammates. I know he wants to win in the worst way possible. And I know he'll do anything and sacrifice himself to do anything to win the game."
The best thing about getting to chat with José during the game where Vikki Vargas thew the first pitch was a fun fact I later learned after the throw.
"Vikki Vargas to me was someone I grew up watching," said José. "I was an intern actually at KNBC as I was finishing my years at Fullerton too when I was still playing ball."
Kind of funny how that came full circle, since I grew up watching José.
When I asked him what is the best piece of advice he could give to students that want to get a job in a competitive sports broadcasting industry, there were two quotes that really stuck out.
"Preparation is the separation"
And
"Start now. Don't wait till you get hired"