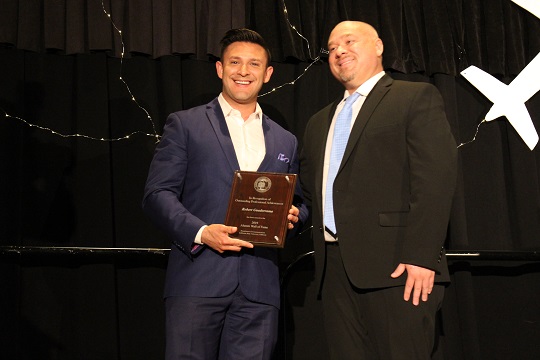 When Robert Guaderrama graduated from CSUF with his degree in 2010, never did he think he would return to the campus ten years later to receive one of the biggest honors that the Department of Communications can bestow upon their alumni.
"I definitely wasn't expecting it this soon after graduating either," Guaderrama added.
During COMM week 2019 Guaderrama was inducted into the Department of Communications Hall of Fame. It's another accomplishment in his established career as a TV news reporter and anchor.
"It's been a wild ride, my career has been a wild ride," says Guaderrama. I don't think this is something that you ever really earn, but something that someone else deems you earned. I will always say that I'm not worthy of it but it's just such an honor to be recognized from an institution that gave me all the tools that has helped me in my career and to make it this far in my life."
And what a career it's been. Guaderrama's recognitions include a National Association of Hispanic Journalists Excellence in Journalism award, Texas Association of Press Broadcasters awards and an Emmy. His reporting journey includes stops in Midland/Odessa, El Paso, Cincinnati and Orlando. Sometimes Guaderrama is hit with a little bit of nostalgia to think that his journey started at a student at CSUF.
"When I was a junior and senior in the COMM department, it was such a time where you didn't know what the future held," Guaderrama said. "You didn't know where you were going and if you stood a chance of making it in this business of TV."
Guaderrama just didn't stand a chance. He ended up thriving, which is one of the biggest pieces of advice he wants to offer to students who are interested in going after a career in TV News.
"I want students to know that it is possible. You can do it. Stick with it. It is going to be the hardest thing you've ever done but stick with it. I want them to see proof that you can accomplish those goals and those dreams and with hard work and the skills you learned here, it's possible and I hope they walk away with that confidence knowing that they have been given the skills needed to move forward and make a name for themselves and make a successful career for themselves. "