Department of Communications

| June 2019
Communications alumna throws first pitch at Angels Game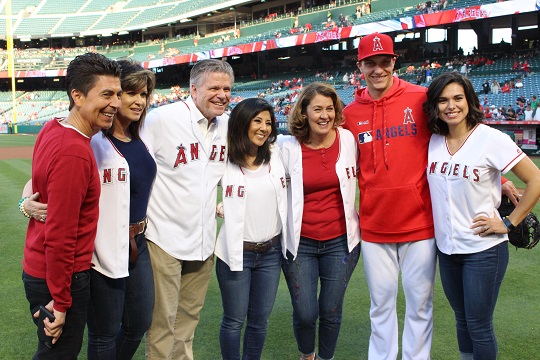 NBC4 reporter and CSUF Department of Communications alumna Vikki Vargas was bestowed the honor of throwing out one of the first pitches before the Los Angeles Angels home game against the Oakland Athletics on Tuesday afternoon.
"I'm such a huge Angels fan," says Vargas, who grew up in Brea. It's always been a bucket list. And then when they told me I was going to get to do it I got nervous. I was like, "'aww get out!.'"
Vargas made the announcement on Facebook that she was going to throw out the first pitch, which featured a video of her practicing her throw. She spent some time putting in the work to get ready to throw the first pitch.
"I went and took a lesson from a female pitching coach," says Vargas. "I felt pretty good after that. Got here tonight, stood out in the hallway with (fellow NBC4 reporter) Hetty Chang and we were throwing the ball back and forth just to get warmed up."
Vargas was one of several former Fullerton Titans at the game that night. The Angels player who caught Vikki's throw was former Titan Baseball catcher Dustin Garneau. Former Fullerton Ace Noé Ramirez. Oakland's Matt Chapman and Khris Davis are also former Titans. Angels Broadcaster José Mota, who grew up watching Vikki on TV, was an All-American second basemen for CSUF. Vargas says she loves seeing so many Titans represent in the professional world.
"When I was going to school, before I started college, I got a 'we want you' letter from USC. I thought, 'wow that's really cool. They want me, and my money for the rest of my life,'" Vargas joked. "And then I went on the campus of Cal State Fullerton and there were so many opportunities because it was such a hands-on experience. And it remains that to this day. So it doesn't surprise me in many ways that so many of these people are doing what they've always wanted to do and they're doing it well. I think it says a lot about the school."