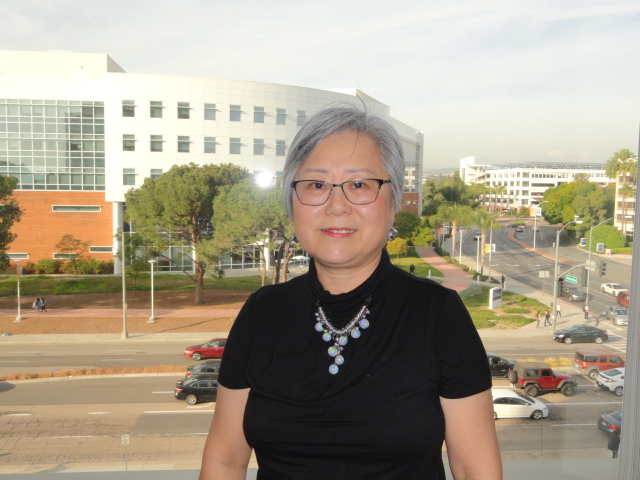 Department: Communication Sciences and Disorders
Phone: (657)278-7602
Email: hseung@fullerton.edu
Office: CP425-1
Office Hours: View Here
 
Faculty Biography: Refer to CV
Degree: 
Ph.D.: University of Wisconsin-Madison, Department of Communicative Disorders
M.A.: Seoul National University, Department of Psychology
B.A.: Korea University, Department of Psychology
Teaching Area: Language development and disorders, autism spectrum disorder, and research methods. Courses taught include COMD 242 (Intro to Com Dis), 307 (Speech/language development), 352 (child language/phonological disorders), 500 (Research in Speech Comm), 564 (Seminar in Autism Spectrum Disorders), and 577 (Seminar in Child Language Disorders).
Dr. Seung joined CSUF in 2006.  Dr. Seung is a member of the Health Promotion Research Institute http://hpri.fullerton.edu/ at CSUF. Dr. Seung developed a deep interest in the communication development of children with autism during her clinical fellowship at the Autism and Developmental Disabilities at Yale University. She continues to conduct research in autism. She has hosted a monthly parent support group with Korean-American mothers who have children with autism. She also serves as an advisory board member for the Korean Special Education Center in Santa Fe Springs, California.
Dr. Seung was the co-investigator of the Korea Research Foundation grant (#H00013), The relation between language and theory of mind in Korean and English: Evidence from normal and Autistic children. Dr. Seung received 2012 Fulbright Senior Scholar Award and conducted autism screening study in Korea (Republic of).
Research Area: Dr. Seung's research interests include:
(1) How to help nonverbal children with autism to develop verbal communication skills.
(2) What is the role of language in understanding people's perspective (theory of mind).
(3) How to empower parents who have children with autism.
(4) How to increase the early detection of autism risk in young children.
Selected Publications:
           Farrar, M. J., Seung, H.K., Lee, H. (2017). Language and false-belief task performance in children with Autism Spectrum Disorder. Journal of Speech, Language, and Hearing Research, 60, 1999-2013. Doi: 10.1044/2017_JSHLR-L-15-0422
           Farrar, J. M., Seung, H.K., Ji, J., Kim, S.J., Sung, I. K.,  Yoon, Y., Hong, G.H., Lee, H. J.,  Lee, Y. W., Lee, H.S., Youm, H. K.  (2015). Examination of the Korean Modified Checklist of Autism in Toddlers: Item response theory. Journal of Autism and Developmental Disorders. 45 (9), 2744-2757.  Doi:10.1007/s10803-015-2439-0
           Lee, H.J., Cho, Y.H., Tamargo, J., & Seung, H.K. (2013). Language and False Belief in Korean speaking and English-speaking Children.  Cognitive Development 28, 209-221. Doi: 10.1016/j.cogdev.2013.01.010