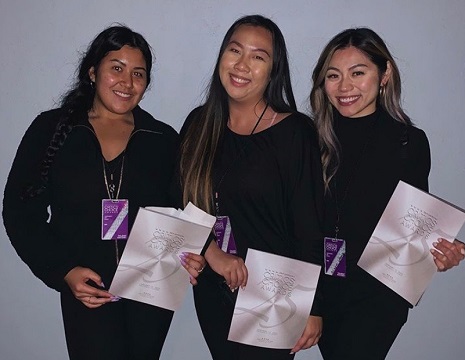 Three board members of the Entertainment and Tourism Club (ETC) got the chance to attend the Critic's Choice Awards at the Barker Hangar in Santa Monica. Hailee Giang, Chantelle Leon and Allison Wong worked the awards in addition to their attendance. They helped with escorting talent from the red carpet into the venue, which included Charlize Theron, Laura Dern and Kate Beckinsale. The students say it was a great learning experience.
"I learned that the production team is crucial to these live event shows, they plan pretty much the entire timeline of the show and make sure everything runs smoothly," says Wong, who is holds of the board position of PR Specialist for ETC.
The three board members got the chance to attend the Critics Choice Award through ETC. Members and the executive board get to work events through a coordinator that works with the club. It's one of the biggest advantages to getting involved on campus.
"I really enjoyed the fast-paced environment and learned how a live event goes on through a production team's perspective," Wong added.