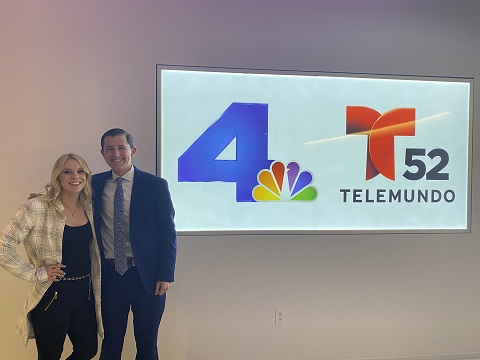 Two members of Titan Sports, a "SportsCenter" like sports show that covers Cal State Fullerton athletics under the umbrella of the Communications Department, were invited to audition for "The Choice" on NBC. Executive Producer Jaclyn Davis and Associate Producer Kyle Fulbright traveled to Los Angeles where they auditioned for "The Choice" and got to meet longtime NBC sports anchor Fred Roggin.
"It was a really cool experience getting to go down to the NBC studios and meet so many people," says Fulbright. "Being able to audition for the choice was an experience I won't forget."
"The Choice" is a sports-debate type of segment that airs during "Going Roggin" on NBC4 Los Angeles. Davis and Fulbright were invited to audition for a chance to compete on LIVE TV after they submitted a 30 second audition video. Those who advance to the "bracket round" will be notified later this week.