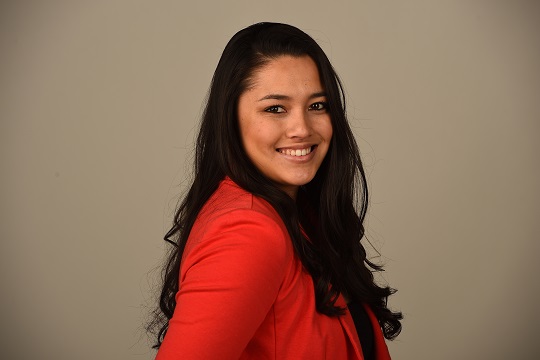 Alyssa Van Doornum graduated with her B.A. in Broadcast Journalism in 2014. From there the Chino Hills native jumped straight into ESPN, the world wide leader in sports. She spent two years at the main headquarters in Bristol Connecticut before transferring to ESPN Los Angeles, where she currently works as a content associate on SportsCenter. At one point Alyssa had the sole responsibility of selecting the top ten plays, which is one of the most popular segments on SportsCenter.
Alyssa was heavily involved as an undergraduate at CSUF. She got involved with Titan Sports as a freshman and eventually became the Executive Producer. It was an experience that helped her get in the door with ESPN.
She took time to answer some questions in this edition of Alumni Spotlight.
What's it like for you to work for the Worldwide Leader in Sports?
Right now times are different at ESPN. We are having to create content without sports. What I love about working here is that we are always trying to think of new ways to serve sports fans. It's pretty exciting going into work not knowing what will happen.
For those who are unfamiliar with your job as a content associate, how would you describe it to them? What is your daily workflow, typical duties, etc?
I help with the production of the show in any way I can. That mostly entails cutting the video that airs. This could range from a 10 second VO to and 1:30 piece, just depends on the night and what is going on in the sports world.
What would you say is he coolest parts of your job?
The coolest part of my job is seeing the awesome athletes and other celebrities that come into the show for interviews. You never know who it will be next, but coming up with new ideas to do with each new guest is what keeps the show exciting.
What is the coolest or memorable on-the-job story that you can share with us?
I am a huge soccer fan. My whole life I grew up playing soccer, so naturally the 1999 Women's World Cup team are my idols. So this one day in Bristol (ESPN's headquarters) I was sitting outside eating lunch with my team (I worked on the Soccer Event Production staff at the time) and here comes Julie Foudy strolling up and she sits RIGHT NEXT TO ME. I couldn't breathe for a moment. She just casually sat down and started talking to my producer and all all of us. She was the coolest person. So down to earth and funny. It was the best day because she was so casual. It didn't matter who I was (it wasn't for that matter) but I got to eat lunch with Julie Foudy and that was just amazing.
Between Kobe's death in January and the Coronavirus pandemic suspending sports, how would you even begin to describe how work has been since 2020 started?
Unprecedented. Even in my short career, you just can feel how unprecedented this all is. Everyone is just figuring it out as best we can. It has been emotional and for sure overwhelming at times, but we power through and just try to deliver the best content for sports fans.
How would you describe your experience working at the main headquarters at Bristol for 2 years?
It was an adjustment for this Cali girl for sure, but I wouldn't trade it. I learned so much and met some of my best friends there. I got to spread my wings both personally and professionally. It truly was an unforgettable 2 years.
You used to cut the top 10 players. How would you describe having the power to shape one of the most fun segments of SportsCenter?
Nerve wracking! Growing up watching SportsCenter I always had a comment on "ah that is better than that?!" So understanding how seriously people take it was scary at first, but you just have to go with your gut and take some polls from coworkers, and just put it out there. There will always be critics but as long as your cod dent in the product you can back it up.
How would you say CSUF/Titan Sports (recap) Played a role in getting you to where you are today?
It was so huge in getting me to where I am, TSR taught me so much about responsibility and hard work. I already had a good foundation coming from a sports background but it gave me confidence in the broadcast world. It helped me understand the ins and outs of what it take to make a production go. I look back and it made me fall in love with the grind and excitement of Sports television,
What is the biggest piece of advice you can offer the students right now?
Keep working your tail off. Somebody will always notice a hard worker. And don't worry about having it all figured out right now. Keep learning in everything you do and you'll find your path, whatever it maybe be.
Ps: Go Titans