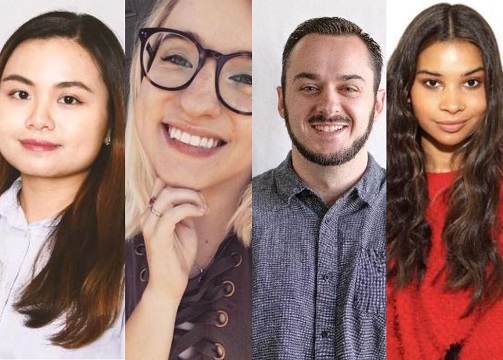 By Brianna Pike
The Department of Communications at Cal State Fullerton would like to recognize the following students as recipients of the Outstanding Student Award. These awards are given to the student with the highest GPA in each concentration.
Chau Le is an advertising communications concentration student who is hard-working and determined. She has not only exerted her efforts to achieve multiple academic goals, scholarships, and awards, but she has also participated in several organizations. She spent her spring 2019 semester as a junior designer at CSUF's Tusk magazine. Additionally, Chau was the creative director for AdClub and Daily Titan's layout editor in the fall 2019 semester. Most recently, she completed a design internship at Los Angeles Magazine in April 2020.
The entertainment and tourism faculty would like to recognize Bailey Coleman. Bailey is passionate about arts, music, and media. She holds a spot on the Dean's List and is determined in her pursuit of her academic goals, currently maintaining a 3.9 GPA. In addition to her academic achievements, Bailey has also been a member of CSUF's Music Industry Club and Titan Radio. She completed an internship with 72 Music Management during her time at CSUF, as well as interned for Billboard's Latin Music Week in 2019. She hopes to continue her education and obtain a master's degree in communications.
Kason Clark is a journalism communications concentration student. During his time at Cal State Fullerton, he has maintained his academic excellence with a 3.84 GPA to be named to the Dean's List. As a journalism student, Kason has worked at the Daily Titan for the past year where he has served as an assistant sports editor and then as the sports editor. Kason completed an internship with Kids Sports News Network where he covered the Upland High School girls' soccer team on their journey to win a state title. Kason is minoring in cinema and television arts.
Justina Sharp is a public relations communications concentration student. Justina has maintained her place on the Dean's List, and holds an associates of arts degree in journalism, social sciences, and foreign languages from American River College. Justina gained experience in digital and influencer marketing after starting her own fashion blog. As a journalist, her writing has appeared in outlets such as Teen Vogue, CNN, The New York Times, MTV News and The Huffington Post. Justina has contributed as an expert source on Gen Z and millennial branding for publications and works as a creative consultant for tech startups.
Congratulations to these remarkable students for their outstanding academic performance!