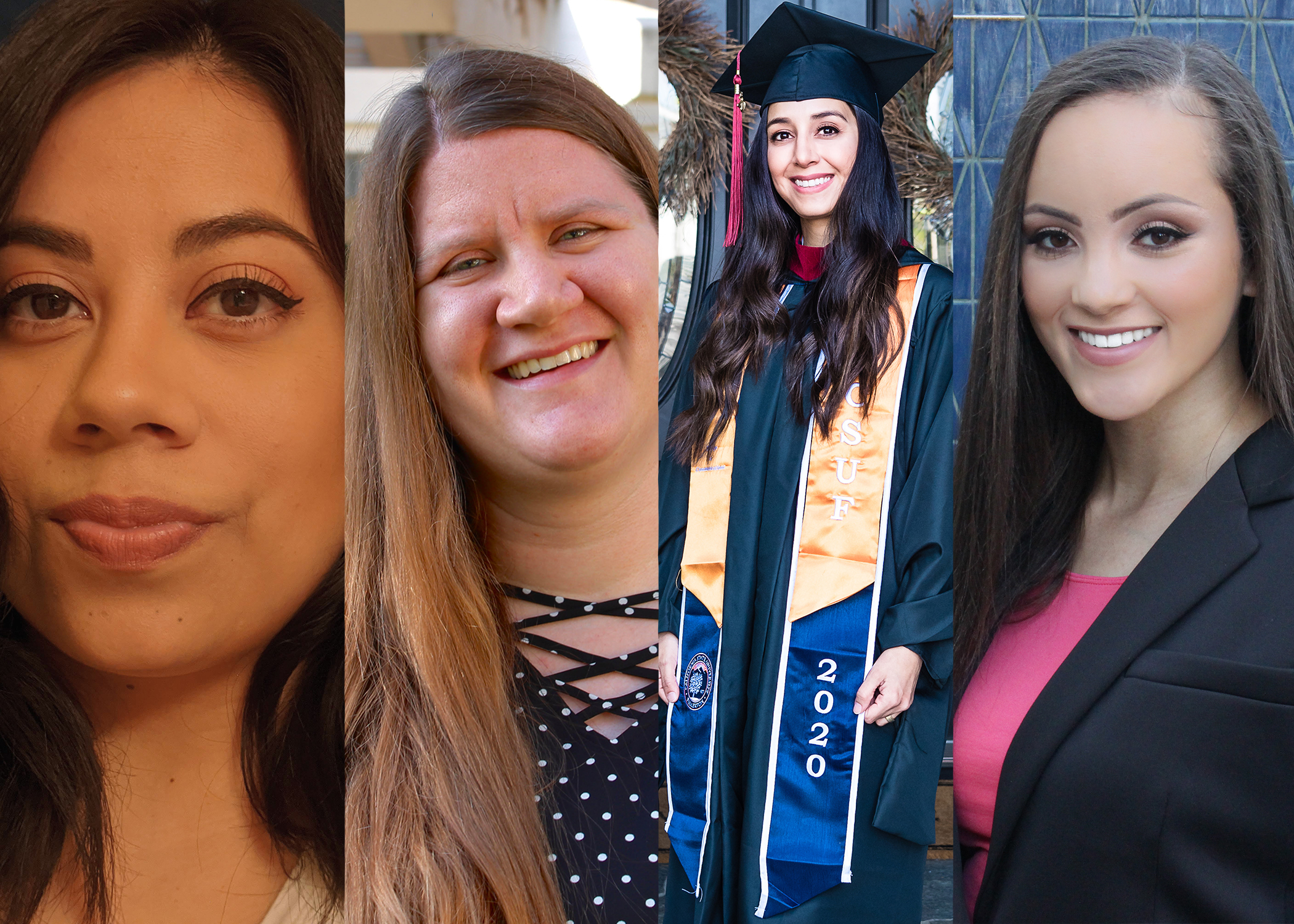 The Department of Communications has selected four graduate students to receive outstanding student awards this academic year.
"All of these students are excellent scholars who have demonstrated intellectual curiosity and a passion for learning during their time in the M.A. program. I am very proud of them and feel confident they will continue to be successful in their professional careers," said Dr. Andi Stein, graduate program coordinator for the Department of Communications.
The four students receiving awards are:
Andrea Rangno
Outstanding Professional Communications Award
Andrea Rangno is a public information specialist at Orange Coast College. She holds dual bachelor's degrees in international studies and literary journalism from the University of California, Irvine. She has previously worked as an editor in magazine and newspaper publishing. Her research interests include new media technology, crisis communications and public relations, and the relationship between mass media and politics. Andrea plans to continue her career in higher education and possibly pursue a PhD. She lives in Mission Viejo with her husband and two kids. When she's not hanging out with them or working, she's arguing with people on the internet over really important things, like the ending for Game of Thrones.
Sabrina Sanchez
Outstanding Mass Media Research and Theory Award
Sabrina Sanchez is graduating with an M.A. concentration in Mass Media Research & Theory. She chose this program based on her interest in a career teaching college-level courses, and a knowledge of CSUF's Communications and Cinema & Television Arts programs. She previously earned her B.A. in Communications (with a concentration in entertainment and tourism communications) with a minor in Radio TV Film from CSUF in 2011 before entering the professional workforce. After writing for an online magazine, then working as the marketing manager for a motorcycle company, she decided she wanted to learn more and earn her master's degree. Sabrina was thrilled with the amount of creative freedom given in class and channeled her interests in television, popular culture, and true crime into her academics. Her final thesis consisted of researching and analyzing the representation of childfree women on television. During her time in the program, she also worked as the Communications Specialist for the College of Communications. She is grateful to have had such supportive professors and to have found mentors throughout the process. Sabrina is looking forward to putting her degree to use and exploring the possibility of Ph.D. programs.
Veronica Aichroth
Outstanding Tourism and Entertainment Communications Award
Veronica "Ronnie" Aichroth graduated from the University of Nevada, Reno with her B.S. in Integrated Elementary Teaching with an emphasis in early childhood education. During her undergraduate work, Ronnie participated in the Disney College Program. During this program, she got to experience working in the Magic Kingdom, and it sparked her interest in the tourism and entertainment industry. After graduation, Ronnie moved to Southern California to continue her career with the Walt Disney Company and pursue her interest in tourism and entertainment. She loves studying entertainment and tourism because it offers a unique blend of history, technology, and emotion. She has always had a deep love for all things pop culture. Ronnie says that some of her first words were movie titles, so being able to study the media industry has been a dream come true. She has enjoyed her time at California State University, Fullerton, and she appreciates everything her professors have done to help her succeed along the way. She
is incredibly grateful to have a strong support system of family and friends. In the future, she plans to travel, so she can experience more museums and theme parks while continuing to work for the Walt Disney Company.
Faith Squier
Outstanding Graduate Student Teaching/Research Award
Faith Squier was born in Northridge, California, and raised in San Antonio, Texas. She earned her bachelor's degree in Integrated Communication with a minor in Business Management from the University of Houston. She is graduating from California State University, Fullerton with an M.A. concentration in Professional Communications. She has always been drawn to the field of communication because she believes that effective communication is critical to the success of any organization or relationship. She is currently the Communications Manager for Pacific Energy Service. Her career aspiration is to find a position that merges her two passions, sports and communications. She represented both of her universities on the volleyball court as an outside hitter. In her free time, she enjoys going to the beach, watching movies, and traveling. So far, she has visited 38 states and five countries.