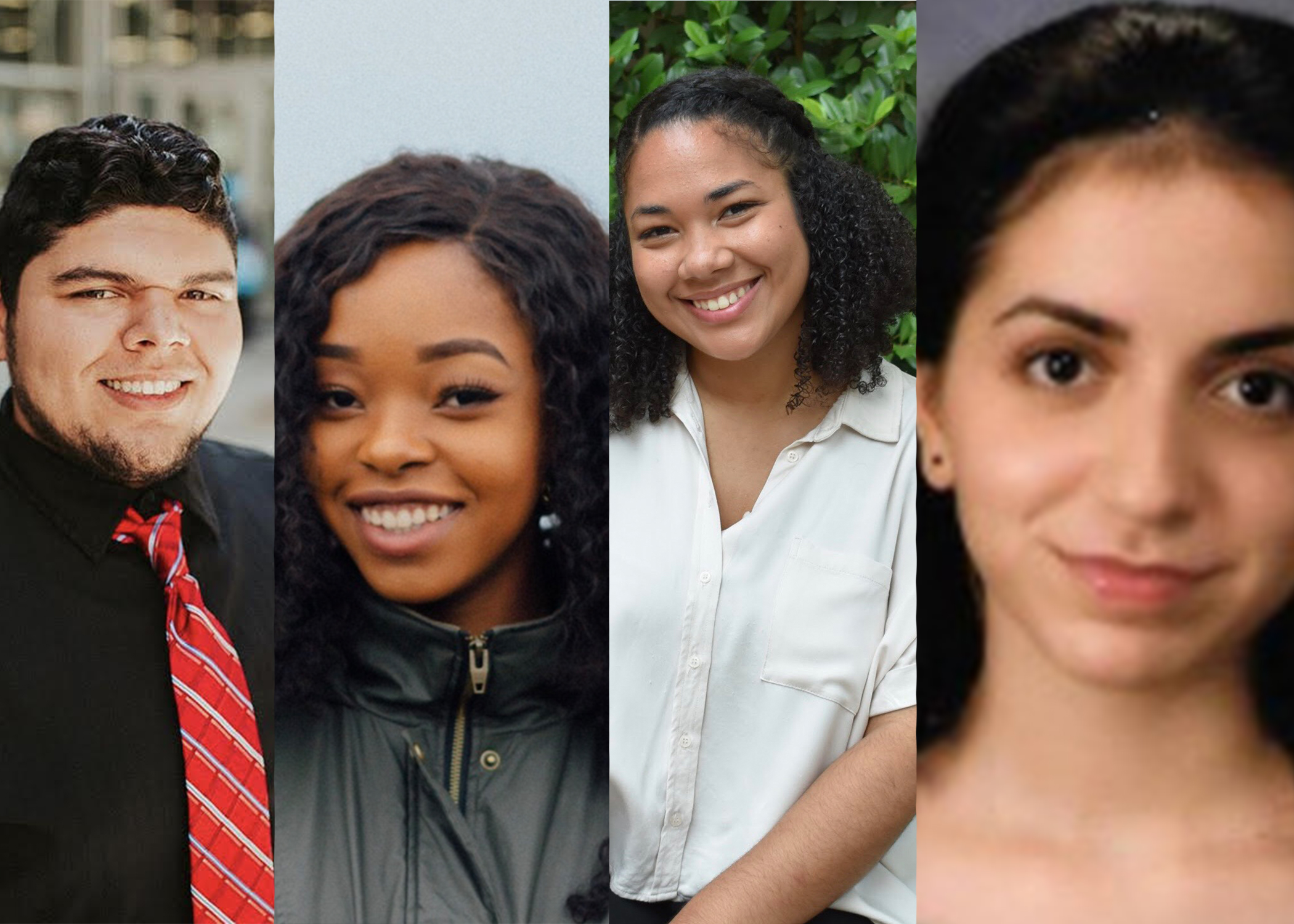 By Justina Sharp
Four students in the Department of Communications have been selected to receive the Professional Promise Award this year.
The award is given to one student in each concentration who has demonstrated exceptional potential for a career in the field.
This year, the faculty is proud to present these awards to such talented, innovative, and multi-faceted students.
Noor Aldaimalani (Advertising)
Noor Aldaimalani is an advertising student who is creative, detail-oriented, and a great team player. Her Portfolium reflects a variety of work in the realm of advertising and public relations. Noor was enrolled in COMM 474 in the fall of 2019 and served as an account services coordinator for PRactical ADvantage Communications. She was responsible for the City of Irwindale account and did a superb job managing communication with this sponsoring client about the social media campaign they completed. She received a certificate of recognition from the City of Irwindale, in recognition of her involvement in the report on the city's communication outreach and presentation in the city council. A transfer student from Saddleback College, Noor has spent her two years at CSUF demonstrating ambition and commitment to excellence by achieving a spot on the Dean's List. Noor completed her student internship at Shout Public Relations in May 2019 and is currently working at Aliso Hills Optometric Group as a social media marketing intern.
Lillie Bosfield (Entertainment and Tourism Communications)
Lillie Bosfield is a Fall 2019 graduate from the Entertainment and Tourism concentration, double majoring in Cinema & Television Arts. She completed CSUF magna cum laude and maintained her Dean's List spot every semester from her freshman year. Lillie was a DJ for Titan Radio her final semester, and was also involved with the Entertainment & Tourism Club (ETC) – she started as an active member her freshman year, joined their street team, and then moved up to an executive board member her final year as the public relations specialist! Discovering her love for music's importance in film and TV, she was offered an academic internship at a music supervision company, Supe Troop. Lillie was then offered a two-semester-long internship at the world's top music publisher, Sony/ATV Music Publishing, and concluded her final semester interning with NBCUniversal's TV Music Services team. Thanks to these experiences, her professors and counselors, ETC, professional networking, and more Lillie was offered a full-time job as an assistant with Atlantic Records and Elektra Music Group's Film/TV/Video Games/Soundtrack Creative Licensing team two weeks before graduating.
Ebehimalen Aboiralor (Journalism)
Ebehimalen Aboiralor is a journalism concentration student with a minor in political science. Ebehi is also an active member of the Black Student Union and served as an executive board member her sophomore year as the Association of Intercultural Awareness representative for Sistertalk (a women's discussion group under the Black Student Union). In 2018, Ebehi wrote for Tusk magazine, and primarily focused on highlighting student life with regard to cultural diversity and inclusion. She also became a student assistant for the Tuffy's Basic Needs Services Center, where she helped run the center's social media accounts by creating and scheduling posts that advertised the services at the center. During her last year at CSUF, she also completed her broadcast journalism capstone by working for OC News, and interned at Titan Communications, working as a news producer for Titan Weekly. Ebehi is also a research assistant within the Department of Communications, researching defamation cases involved in the #MeToo movement. After her four years at CSUF, Ebehi has decided to follow her interests in communications law and will possibly apply for law school.
Alexis Flores (Public Relations)
Alexis Flores is a graduating senior majoring in communications with a concentration in public relations. Alexis is passionate, devoted and a committed member of the communications community as a whole, and came to CSUF as a transfer student from El Camino College. During his time at CSUF, he was involved in PRSSA as a professional development committee member, Titan Public Relations as a co-executive director, Latino Journalists of CSUF as a public relations committee member, Latino Communications Institute as the newsletter editor, Lambda Pi Eta as the vice president, ETC, Titan Radio as a radio host, and finally, Titan Communications. Alexis has a unique approach to storytelling, which transferred well into his ability to work on a variety of different PR campaigns. Thanks to skills developed through his academic career, he has been able to work on many initiatives and events on campus. He accepts any opportunity offered to him to grow his professional skill set and expand his network. No doubt Alexis will flourish in his career and continue being a great ambassador for the CSUF Department of Communications.