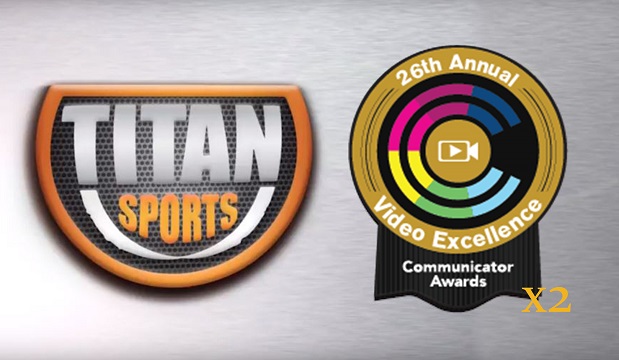 For the second year in a row, Titan Sports won a Communicator Award of Excellence, which honors creative excellence for communications professionals. This year the Academy of Interactive and Visual Arts awarded Titan Sports with two Communicator Awards in the student division, making it three awards of excellence in the past two years.
"Winning this award means a lot and it shows how all of our hard work really paid off," says Titan Sports Associate Producer Kyle Fulbright. "From helping with cameras to producing the episode, everyone pitched in and it really showed in the final product."
Titan Sports had two episodes that won awards. The first episode, titled "S18 Ep6: Agree & Disagree" features Cal State Fullerton athletics coverage in addition to a feature interview with two members of the Cross Country team who play a game of "Agree & Disagree."
The second award winning episode was produced before the studio and facilities at Titan TV, as well as the campus, were forced to shut down as part of statewide mandate to stop the spread of the Coronavirus. The episode was called "S19 Ep6: Titans v. Coronavirus" and featured full coverage of how the Coronavirus affected national and international sports.
"It's a blessing to win awards and be recognized for all the work, dedication and sacrifice that everyone put in," says Associate Producer Cory Johnson.
Titan Sports, which is an ESPN-like "SportsCenter" type of show, operates under the umbrella of Titan TV and the communications department. The accredited student media organization covers Cal State Fullerton athletics, Division I athletics, the Big West Conference and some professional sports. It was founded in 2011 with two primary goals: to provide the best video coverage of Cal State Fullerton athletics and to help members compete for competitive sports jobs in a competitive sports industry.
"I'm glad that this team is getting the national recognition that it deserves," says Titan Sports graduate advisor and founder Derek Opina. "It's good to get this kind of recognition but what's more important is the lessons that were learned and the work ethic that was developed en route to getting this recognition. This award is the accumulation of hard work and perseverance.
You can watch the two award winning episodes in the links below.
Season 18 Episode 6: Agree & Disagree
Season 19 Episode 6: Titans v. Coronavirus
About the Communicator Awards:
The Communicator Awards is the leading international creative awards program honoring creative excellence for communication professionals. Founded over two decades ago, The Communicator Awards is an annual competition honoring the best in advertising, corporate communications, public relations and identity work for print, video, interactive and audio. The 26th Annual Communicator Awards received over 6,000 entries from ad agencies, interactive agencies, production firms, In-house creative professionals, graphic designers, design firms, and public relations firms.
Who is behind the Communicator:
The Communicator Awards are judged and overseen by the Academy of Interactive and Visual Arts (AIVA). The AIVA is an invitation-only member-based organization of leading professionals from various disciplines of the visual arts dedicated to embracing progress and the evolving nature of traditional and interactive media. Current membership represents a "Who's Who" of acclaimed media, advertising, and marketing firms, including: GE Digital, Republica, Tinder, PureMatter, Tool of North America, Fast Company, Territory Studios, and many others. Please visit aiva.org for more information.
Judging and Awarding:
Entries are judged to evaluate distinction in creative work. In determining Excellence and Distinction Winners, entries are judged on their merits against a standard of excellence considering the category entered. A category may have multiple winners, or may have none. Entries are scored on a 100-point scale by the judges. Generally, Excellence Winners receive a score of 90 or above and Distinction Winners receive a score of 70 to 89.
Communicator Awards Press Release
New York, NY (May 13, 2020) - The winners of the 26th Annual Communicator Awards have officially been announced by the Academy of Interactive and Visual Arts. With over 6,000 entries received from across the US and around the world, the Communicator Awards is the largest and most competitive awards program honoring creative excellence for communications professionals. Winners who received the competition's highest honor, the Award of Excellence, include Amazon, ESPN Films, Publicis Sapient, Macy's, PepsiCo Design & Innovation, Forbes Media, and Savvy. Please visit communicatorawards.com to view the full winners list.
"We are extremely proud to recognize the work received in the 26th Annual Communicator Awards. This class of entries embodies the best of the ever-evolving marketing and communications industry" noted Eva McCloskey, managing director of the AIVA. She added, "On behalf of the Academy, I'd like to applaud the entrants this season for their dedication to producing outstanding content as they continue to push the envelope of creativity."