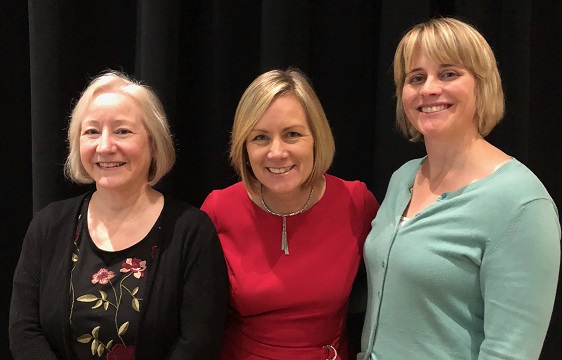 The Faculty Development Center at Cal State Fullerton has provided significant, impactful and ongoing support for faculty of the Department of Communications for many years.
This year, the FDC was selected by the Department of Communications as the 2020 recipient of its Campus Partnership Award.
The award recognizes the outstanding work of Dr. Erica Bowers, director of the FDC, and her full-time staff Tracey Magyar and Kelly Donovan, in addition to Dr. Kristin Stang, assistant vice president of faculty support services.
With the increase in tenure-track hiring in recent years, the support provided by the FDC has been even more important, as the FDC has been a critical partner for new faculty orientation, mentoring and trainings.
In particular, new faculty in the Department of Communications noted:
The new faculty orientation held in August 2019 was enormously helpful to get new faculty started with their new jobs. It was well-prepared and offered great details to help them navigate through our first weeks. As one faculty member noted, "Without that, each and every one of us would be struggling on our own."
After the terrible campus stabbing death on our first day on campus, Dr. Kristin Stang and Dr. Erica Bowers and their staff handled the situation with tremendous grace and care.
Dr. Bowers is very enthusiastic and encouraging in every interaction faculty have had with her. As one faculty member noted, "I appreciate that a great deal because as you know, this first year has its ups and downs."
The monthly support meetings are also right on target. Faculty have noted the relevance and timeliness of topics, including a prospectus peer-review session and a session on SOQs. "This is exactly the support we need," one faculty member noted.
Dr. Bower has been very flexible with new faculty schedules, offering times to meet with them outside of our scheduled meetings.
Congratulations and thank you to the FDC from the faculty of the Department of Communications!