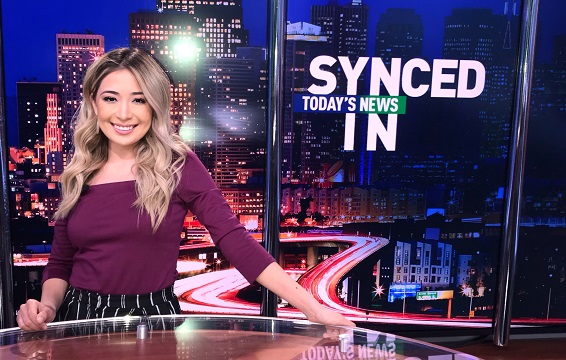 By Derek Opina
It's extremely rare for a college graduate to get a job in front of the camera in a top ten market in the TV industry. But thanks to hard work and dedication, Abbey Fernandez (Class of 2018) made it happen.
"When I got the news that I was hired, I was completely thrilled," says Fernandez. "It was something that I really wanted and I knew I was going to be good at and so I was just very excited."
Fernandez, a native of Texas, works as a digital correspondent and producer for KNTV, the NBC affiliate in San Francisco, which ranks 8th in the Nielson Designated Market Area rankings. Her position at KNTV is fairly new, as her station wanted to create more content that is native to digital platforms. Fernandez produces the show in both English and Spanish. Thanks to a skill set she built at CSUF and some networking opportunities at a NAHJ conference (National Association of Hispanic Journalists), Fernandez was able to secure the job.
"I was able to meet the news director there as well as other news directors from other NBC owned stations across the country," says Fernandez. "There was a time where we all got to sort of meet and greet and I got to meet [the news director]. I let her know about what I wanted to do and I let her know what my interests were and that I was really into digital because it's a platform that' really coming up right now and I saw potential in it. So she let me know there was something like that at the station they were working on so things just kind of connected and thankfully I got this job."
Fernandez was taking advantage of networking opportunities. But more importantly, she was ready to market herself as employable to news directors thanks to the skills she developed within Cal State Fullerton's Broadcast Journalism department.
"The fact that we had nice studios and the fact that we had these extracurricular things going on at Titan TV. Never did I feel like my time there wasn't valuable," says Fernandez. "Everything that I would do, every instance of the day that I would spend there on campus I was doing something. Not only does that come from initiative but also from having the resources to do them. So I think that this communications department just has a lot of great resources that really benefit anyone that has that initiative."
Fernandez was not just involved with Titan TV. She was the president of the Latino Journalists, anchored/reported for Al Dia (Cal State Fullerton's Spanish newscast) and was part of the Latino Communications Institute. Being involved on campus and taking advantage of the numerous opportunities at CSUF is one of the biggest things Fernandez recommends to anyone who wants to get into the TV business.
"We have so many resources at school and we just don't take advantage of them. You need to be active, that's the first thing," says Fernandez." Start getting involved in as many things as you possible can. I know we all have responsibilities in our lives. We all have to either work or something else. But don't let that come between you and your education. I remember someone telling me when I was in school. These 4 years, or however many years your at school, you will never get those years back in terms of you're paying for something. You will never get back what you could have done once you're out. We don't realize that when we're there, we're struggling, we're stressed and we have all these classes and you think you can't… you can. Because once you're out of there you won't be able to do this. So my main advice to anyone is be involved and be involved in as many things as you can be involved."
She also added one more piece of valuable advice.
"Networking. We hear it and it's stuck in our head but I think the idea of doing it is very different. People need to get used to talking to people around them. People need to get used to getting into organizations."