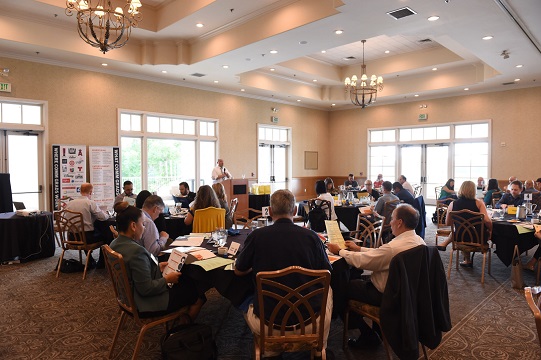 The Department of Communications held its fall faculty retreat on August 23 at the Los Coyotes Country Club in Buena Park.
Department Chair Dr. Jason Shepard kicked off the daylong retreat with a presentation about the Department's successes and priorities.
The faculty reviewed the Department's new Strategic Plan and identified strategies for actions in 2019-2020 to expand student recruitment to the Communications major.
Faculty also reviewed the Department's curriculum changes and participated in an advising exercise in which faculty developed 4-year roadmaps as if they were students.
Dr. Bob Meeds led a presentation about the Department's e-portfolio requirements and lecturer Beth Georges gave a sneak peak of a new digital textbook to be used in COMM 101: Writing for Mass Media.
After lunch, lecturer Amber Chitty Wilson presented findings of student and employer surveys evaluating the internship program. Both students and employers give the program high marks.
Career specialist Cassandra Thompson let faculty know about the many services she provides to prepare Communications students for the workforce.
The retreat concluded with discussion scenarios about classroom issues.
More than 40 faculty attended.
Photos from the day can found on the Department's Flickr page at https://flic.kr/s/aHsmGxShsb.