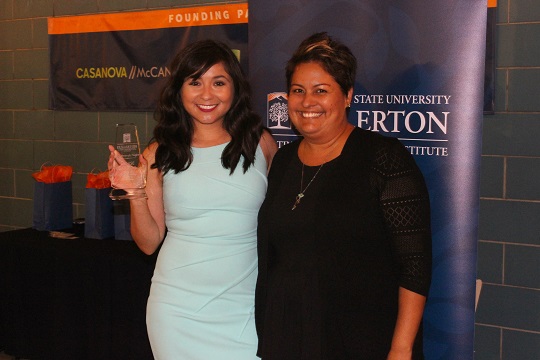 Three distinguished former Fullerton Titans were recognized during the inaugural Latino Communications Institute Alumni Awards Night held at the La Plaza de Cultura y Artes in Los Angeles. The alumni, Denise Salcedo (Journalism, Class of 2014), Brenda Saucedo (Cinema and Television Arts, Class of 2017) and Sheryl Posadas (Journalism, class of 2018) received awards that reflected their innovation, vision and mentorship as graduates of the LCI program.
"To be honest, I was totally shocked," says Salcedo, who is a TV host for her own outlet that she created, "Instinct Culture." When I was told that I was being nominated and that I was actually selected, I couldn't believe it because when you're in college you don't really see these things like actually happening to you. And when they did I was just like, wait, 'what, me? I haven't felt like I've done anything.' But then you kind of step back and you look at that bigger picture, you're like, 'you know what, maybe I have done some few stuff you know?' It was really cool to find out that I was nominated. Especially because I was like, 'I can feel my Titan Pride coming back!'"
Salcedo was presented with the Visionary award while Saucedo was recognized with the Innovator award and Posadas received the Outstanding Mentor award.
"I was shocked just because there's so many other amazing people apart of LCI who mentored me," says Posadas, who works for E! Entertainment as is a former L.A. Clipper girl. "They helped me get to where I'm at so to me it's like, 'why not them?' But they saw something in me, something that maybe I've impacted a lot of people. But I think we're all mentors one way or another. It's really nice and I feel grateful to be honored tonight. Especially it being the first time that this event is being held. I feel really honored."
The Latino Communications Institute launched in the Fall of 2013 and has grown tremendously, with more than 150 alumni creating their own award-winning content while working in newsrooms and at top public relations and advertising firms. About 80 people attended the inaugural awards.
"What it ended up being is a celebration of our alumni, of our Titans, employers getting together to connect with our talent and for Titans of different generations to reconnect," says Dr. Inez Gonzael Perezchica, who works as the Director of the Latino Communications Institute. "So we're really excited…the honorees are really excited, bringing their family…it turned out to be an incredible first year and it's going to be a tradition for so anybody that's not here this year make sure you look for it next year."