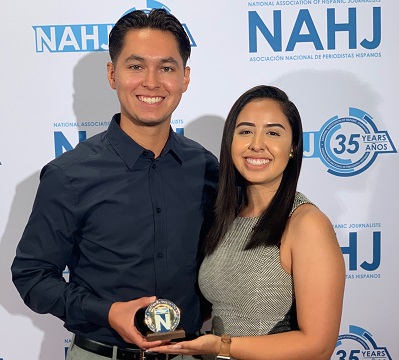 Two students from the Latino Communications Institute left the annual National Association of Hispanic Journalists convention in San Antonio with top honors.
Vania Patino, a senior broadcast journalism major, was the 2019 recipient of the NAHJ Cecilia Alvear Scholarship. The award, in the amount of $2,500, is named after the former NAHJ president who passed away in 2017. Patino was also one of twelve students from around the country selected for the Student Projects, which she worked on from summer until September before the convention took place. Patino says she wrote a couple of essays in order to apply for the Cecilia Alvear Scholarship.
"Applying for the scholarship and student project was probably the best thing I could have done," says Patino. "Not only is it extremely humbling to see an organization like this want to invest in me, but the familia that I got out of it is beyond anything I could have asked for."
Senior Dominic Torres won an award for "Best Coverage of Latino Issues in a Student Broadcast." Torres' submitted a piece from his work as Executive Producer/Segment Producer of a Border Emergency in Al Día. Both Patino and Torres are on pace to graduate in December of 2019 and walk in Spring 2020.