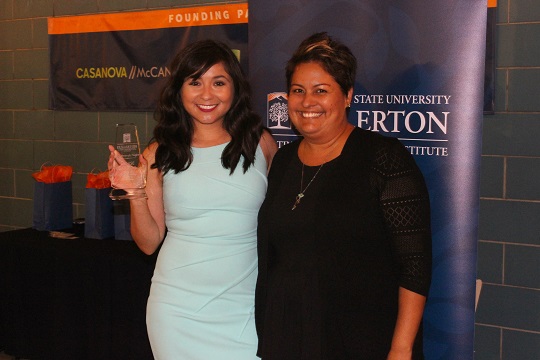 Denise Salcedo couldn't believe what she said during one of her classes while she was still a student at CSUF.
"One of my last classes I had I stood up and [my professor] asked the class, 'what is something that you guys want to do when you graduate?' And I just stood up and was like, 'I want to interview wrestlers like on WWE,'" Salcedo recalled of her undergrad. "And I remember thinking, 'what a loser! I can't believe I said that. That's never going to happen.'
Lo and behold, Salcedo predicted her own future. She went on to interview some of the biggest names in the wrestling world, including Shawn Michaels, Triple H, Stephanie McMahon and "Stone Cold" Steve Austin.
"So I was like, 'what in the world that actually came true," says Salcedo. "I don't even know how that ended up happening."
Salcedo went on to build her own brand as a TV Host and On-Air Personality through social media. She produces and publishes her own content on different platforms, including YouTube and Instagram. Currently she has 24.1K subscribers on YouTube, 4,339 followers on Twitter and over 17K followers on Instagram. She's a TV Host for Instinct Culture, which is a hybrid of pop culture and pro wrestling content. She is also an on-air personality for X-PAC 12360 and Fightful Online. Salcedo says she was able to build her brand and skillset because of the education she got at CSUF.
"It helped me with everything because it was at Fullerton where I learned how to put together a news package. I learned what the heck a news package was in the first place," says Salcedo. "I learned to edit. I learned to shoot. I learned to frame myself. I learned to do standup. Basically what I learned at Fullerton was to be not just a face in front of the camera but have those tools that I need to actually create content. In the past I was creating news packages and now it's no different. I'm creating entertainment videos. So obviously it's a different subject matter but still the same tools are used that I learned at Cal State Fullerton."
When it comes to students who wants to go after what they want, Salcedo had valuable advice to offer.
"Don't wait until you graduate. Create content now. Network now. Do as many internships as possible. Get to know people because that's what's going to help you."