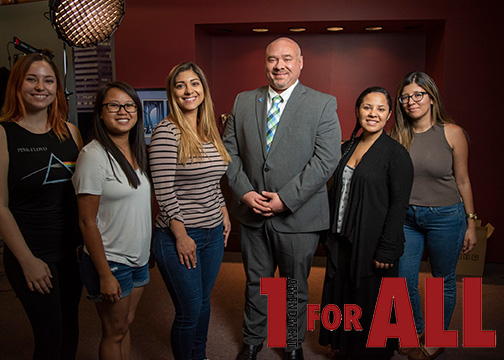 PRactical ADvantage Communications students in Dr. Doug Swanson's fall semester section COMM 474 produced and delivered videos on First Amendment rights and responsibilities.
Students collaborated with Department Chair Dr. Jason Shepard (subject matter expert) and Titan Communications Nathan Jeffers (technical expert) to research, write, shoot and produce the video.
The project was funded through a grant Dr. Shepard received from Middle Tennessee State University's Free Speech Center in conjunction with "1 For All," a national nonprofit educational effort to build understanding and respect for the First Amendment.
The COMM 474 students' video was produced in five segments, one for each freedom guaranteed by the First Amendment. The segments can be viewed individually or in sequence.
COMM major Justina Sharp served as the video's on-camera narrator.
The videos can be found on titanuniverse.org.