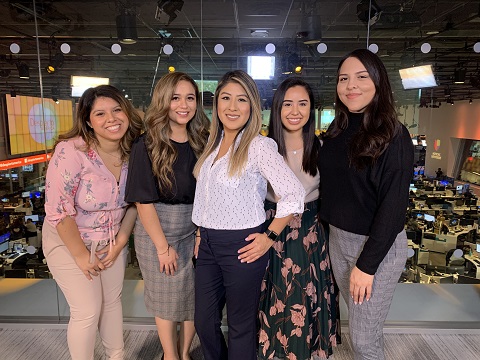 Five Cal State Fullerton students were selected to participate in a week long news fellowship at Univision Network in Miami. The five students traveled to Florida with broadcast journalism professor Jesus Ayala where they got to learn how to work in a professional news enviornment. The skills they were taught included creating graphics, gathering/updating news for various shows, attending editorial meetings and writing scripts.
"This experience is surreal," says Latino Journalists president Vania Patino. "I grew up watching these shows and these reporters and to now be in the same room as them sharing ideas is beyond me. I'm super thankful for LCI and Univision for providing experiences like these."
The five students, Giselle Martinez, Janelli Pedroza, Leslie Cano, Vania Patino and Marina Rodriguez, were invited to partake in the fellowship after their outsanding work in helping with the Democratic Forum in Long Beach.